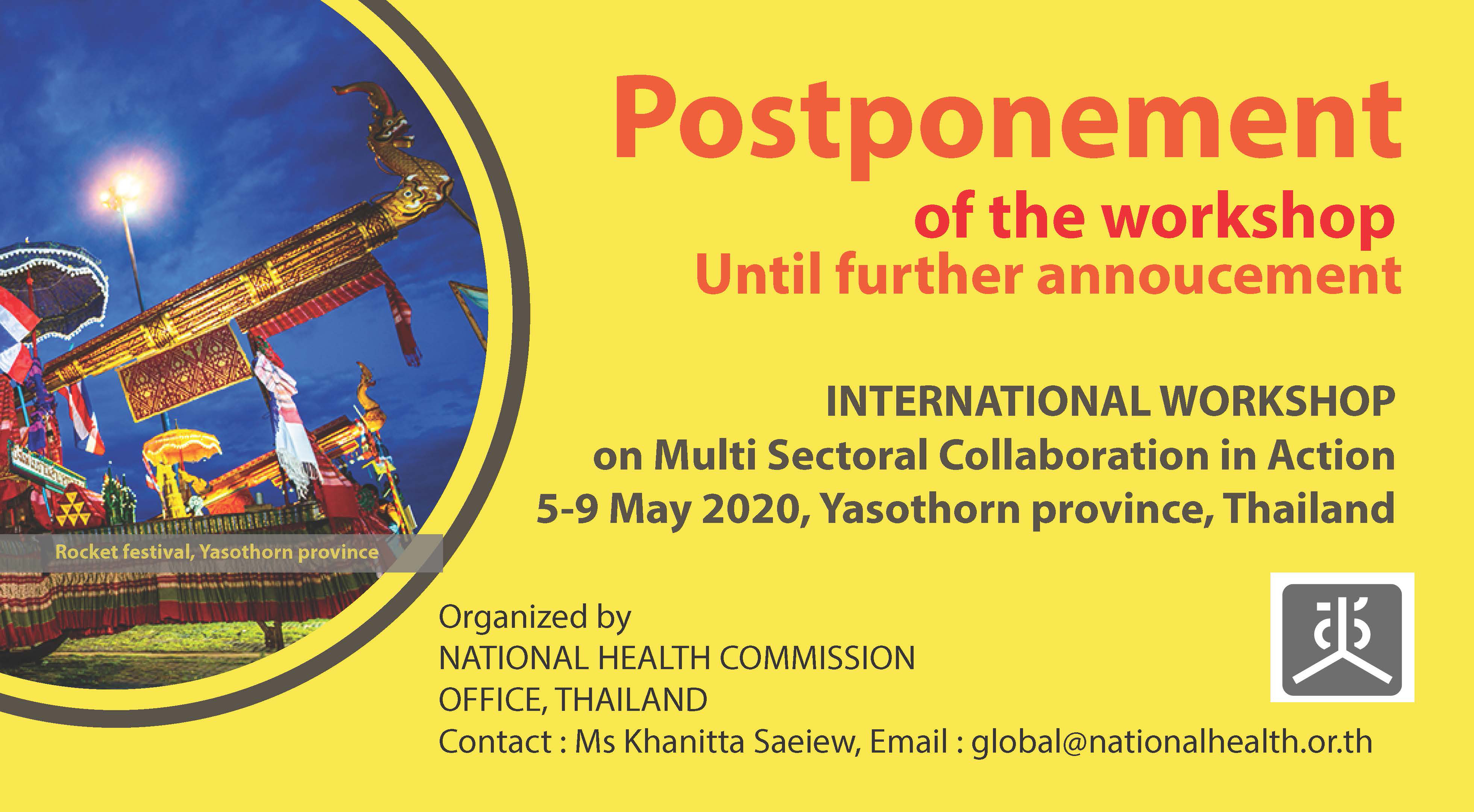 Due to worsening COVID-19 situation globally and in Thailand, we are obliged to postpone the International Workshop on Multi-sectoral Collaboration in Action workshop, Yasothorn Province, Thailand until further notice.
About the international  workshop on Multi-Sectoral Collaboration in Action : 
National Health Commission Office (NHCO), Thailand is an autonomous government organization established under the National Health Act in 2007. We aim to promote and create health in all policies in a society. This is because health of the population is affected by determinants beyond health care such as economy, environment, national and international policy, culture and norm. To solve this problem, it necessitates tackling the problem by working across sectors for the shared goal.
"Multi-sectoral collaboration" refers to deliberate collaboration among various stakeholder groups (e.g., government, academia, civil society, and private sector) and sectors (e.g., health, environment, and economy) to jointly achieve a policy outcome. Working as a facilitator for a public policy process; NHCO has discovered that all sectors see importance of multi-sectoral collaboration, but find obstacles to achieve it. As a result, we provide our partners a platform and a tool– health assembly and heath charter – to build collaboration among different sectors and collectively develop health in all policies.
This workshop will take Thai and oversea participants to learn the technique on how to work across sectors and failures that the participants can prevent. The story of Yasothorn province will be presented during the workshop step by step. In summary, Yasothorn people were worried about chemical use in agriculture, low reading skill in children and harmful drinking alcohol. They raised these issues at the provincial health assembly, a multi-sectoral platform in which government, academia, and civil society attend to raise problems and find solutions together. Instead of tackling each problem by individual sector, they decided to tackle the three problems together by reframing the issues, analyzing stakeholders, and using communication techniques to work with stakeholders.
The strength of Yasonthorn health assembly network on multi-sectoral collaboration is drawn to design the workshop. This workshop will offer the participants attitude, knowledge, skills and tools to build multi-sectoral collaboration in your working context. The success case of Yasonthorn will be shared with the participants; however, obstacles are still remained to be solved especially control of harmful drinking alcohol during the rocket festival, which is organized annually in May in this province. New perspectives from the participants as outsiders are welcomed to give feedback to improve this situation.
For more information about this workshop please click "concept note"
If you have any question please contact Ms.Khanitta Saeiew, NHCO Thailand at global@nationalhealth.or.th