Community Health Impact Assessment has been introduced to the affected villagers from gold mining as a tool to negotiate with the polluter. National Health Commission Office (NHCO) together with Loei Foundation for Conservation and Sustainable Development, National Economic and Social Advisory Council, Faculty of Medicine and Research Development Institute of Khon Khen University attended a village meeting on health impact from gold mining in Baan Na Bong village, Loei Province, northeastern Thailand.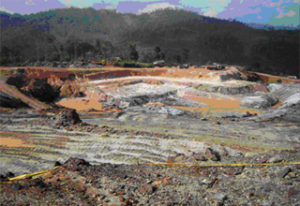 50 villagers complained the leaking out of toxic substances from the goldmine which have affected their health. The goldmine is 300 meters above the sea level located 300-500 meters from villagers' houses. 6 villages around 3,000 people have been affected from their operation. Not only physical health deteriorated, their mental health and quality of life has been affected. None of responsible agencies have taken charged seriously. What the villagers can do in this critical moment is to present a petition to the Governor of Loei Province for urgent solving last April. NHCO linked up the above mentioned agencies to visit the affected villages and listen to their frustration. A representative of National Economic and Social Advisory Council gave the information about gold mining in Pichit Province, while a medicine faculty's representative presented gold mining in other countries and health problems from cyanide, arsenic and etc. The villagers were encouraged to collect data of their sickness and picture their symptoms.
This data will be utilized for future community health impact assessment (CHIA) done by the villagers in support of local academic and NHCO. The CHIA's result will be a trustworthy evidence to negotiate with the polluter. NHCO anticipated that through the process of CHIA, the capability and confidence of villagers will be strengthened gradually. NHCO also introduced National Health Act which ensures the villagers that they have rights to call for health impact assessment to any public policy and allow them to participate in the process of health impact assessment.