Thailand's delegates led by Secretary-General of National Health Commission attended the international conference hosted by Department of Health for England and based on the work of the Commission on the Social Determinants of Health (CSDH), WHO.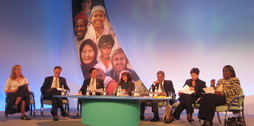 Over 400 delegates from around the world including ministers, leading policy makers, representatives of international organizations, academic, business and civil society were attending the conference on " Closing the Gap in A Generation: Health Equity through Action on the Social Determinations of Health" at the Queen Elizabeth II Conference Centre in London from 6 – 7 November 2008. The conference aimed to call on the WHO and governments to lead global action on the social determinants of health and achieve health equity.       The WHO Commission on the Social Determinants of Health, led by Professor Sir Michael Marmot, showed clearly that while differences in life expectancy and infant mortality between countries were significant, the differences within a country were often more astonishing. In Sweden, the risk of a woman dying during pregnancy and childbirth is 1 in 17 400; in Afghanistan, the odds are 1 in 8. Life expectancy for Indigenous Australian males is shorter by 17 years than all other Australian males. Biology does not explain any of this. Instead, the differences between – and within – countries result from the social environment where people are born, live, grow, work and age.
Mr. Gordon Brown, the Prime Minister of England, called the above example as the geography of inequity. He gave another example in London which life expectancy fell one year for every underground station you stop at Westminster to Canning Town. He also expressed his concern that ill health has no boundaries in an interdependent world. Promoting good health can no longer be left solely to individual countries. To tackle global health inequities, we must build on international commitment.
Dr. Amphon Jindawatthana, the Secretary-General of National Health Commission shared his perspective on a parallel session of health systems. He pointed out that the success of Thailand's redistributive health systems laid upon intersectoral action among civil society, academic and government agencies including politicians. The synergy of civil power, knowledge power and political power can reform the society. It is significant that civil society should have been truly empowered. Thailand have employed this strategy which is called "Triangle that moves the mountain" to tackle health inequity and drive any healthy public policy.       The conference ended with a commitment of the delegates to pursue actions to eradicate health inequity as this is a mission of the generation.