Khon Kaen University and National Health Commission Office were hand in hand to drive healthy public policy in northeastern Thailand, so called E-sarn, witnessed with government agencies, business sector, NGOs, and local administrative organization.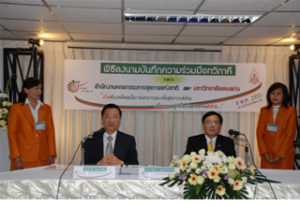 A MOU for a close bilateral collaboration was endorsed by Prof. Dr. Sumon Sakolchai, KKU President and Dr. Amphon Jindawattana, Secretary General of National Health Commission on 8 May 2008 at Research Development Institute's meeting room. The MOU will pave a way to develop a well-being of people in the university, in Khon Kaen Province and in the North East region through developing healthy public policy (HPP). At the initial phase, 5 thematic policies are underlined as follows: healthy campus, KK healthy city, E-sarn: food security, Esarn: human & social security and water management. Prof. Dr. Sakolchai announced the university's policy as a center for developing participatory healthy public policy. The university will collaborate among faculties to achieve the policy. Research Development Institute (RDI) is assigned to be a secretariat body to study a HPP development mechanism and support public communication.
The collaboration will not be limited to academic in the university, but embrace government, private and people sectors within and outside the university. Dr. Jindawattana ensured NHCO's support to the university's policy with a grant and a network external the university's circle. He also confirmed that as NHCO's mission, policy recommendations based on this collaboration will be driven to healthy public policy and translated into practice at various levels through procedures in accordance with National Health Act 2007. After the signing ceremony, a well-known monk, academics, cultural expert and social mover were invited to share their knowledge and experiences at an academic forum for E-sarn well-being.