The National Health Commission Office had a golden opportunity to exchange experiences with a group of qualified Japanese individuals who played a vital role in tackling environmental problems in Minamata town.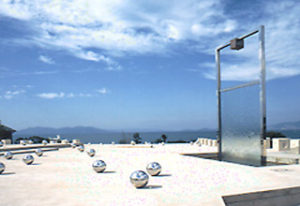 The group visited the office and attended an academic seminar on "Environmental Restoration and the Participation of Local Community through Experiences of Minamata Town".       Mr. Masazumi Yoshii, former mayor of Minamata town, gave a special lecture on "The Participation of Local Community and its New Partnership to Environmental Restoration: From the Polluted Town to an Exemplary Environmental City in the 21st Century". He cited incidents starting in 1956 when the Minamata disease was first discovered. This disease was caused by mercury poisons released into the sea by Shizo Company, contaminating the food supply. Consumers who ate the seafood and fell victim to this deadly disease reached 200,000.
After the disease broke out, it led to confrontation between victims and company employees which resulted in a growing rift between two factions and a fierce frame-up. It was not until 1990 that the new generation stepped in to correct the situation and prevent the city's collapse. They reviewed the past occurrence and found that helping the victims and restoring the community must be done inseparably. Mr. Yoshii, who was mayor at the time, issued an apology to the people and initiated a wide string of relationship-building activities. People turned up in an concerted effort to develop their town. The once tourist destination and industrial city transformed into a good environmental model. Some 128 environmental issues were widely campaigned and disseminated. During 2005-2006, Minamata was ranked the first environmental city of Japan. Armed with long-established experiences, community members are now willing to share their stories to other countries around the globe.
Ms. Etsuko Numata of the "Female Council for Garbage and Waste Reduction Campaign" presented a lecture on "Waste and Garbage Management in Minamata". She recalled that garbage sorting in Minamata commenced in 1993. Garbage produced in the town was categorized into 20 types and 300 garbage resource centers were set up. People could bring their household garbage to the centers daily, resulting in a decreased garbage pile-up. As the result was still unsatisfactory, the "No-garbage Producing Scheme" was also initiated. A Female Council was formed in 1997 with 3,500 members from 16 organizations, or half of the female population in the city, in a bid to reduce the large amounts of garbage.
The Female Council began surveying various shops and department stores to determine the commodities that women generally purchased and which items would eventually create garbage. They found that fruit and vegetable trays were unnecessary and plastic bags were the mail culprit in producing piles of garbage. They discussed their findings with the store owners and made an agreement to stop using the trays in 1998. The "ECO Shop Banner" was also presented to environmentally-friendly shops. So far, 16 shops have received the banner. Other activities include the use of fabric bags to replace plastic ones. At first, a mere 1% of the people followed suit, but campaign members refused to be disheartened and the campaign was launched incessantly. As a result, currently 41% of the people support the green crusade by using fabric bags.
Mr. Tetsuro Yoshimoto, head of a Non-Governmental Organization and former official of the Local Administration Organization, was the last speaker. He gave a lecture on "Shifting the Mentality Towards Minamata City into a Favored Locality and Community Study to Strengthen Social, Cultural, Natural, and Industrial Unity."       Mr. Yoshimoto elaborated that the community study is based on concepts of self-reliance, consumption of local resources, revitalization of dormant energy, and emphasizing local identities including physical appearances and people's lifestyles.       In 1991, members of Minamata city joined forces to establish an ambitious goal for their hometown: To develop it to become a healthy community, using the Minamata disease as a reminder and lesson for the people. Their efforts truly paid off a decade later with the relentless support from the local populace. The main activity of this mission was to fully utilize what the community already has. Local resources maps were created after each family discovered abundant natural resources in their possession. Water courses were thoroughly explored and the survey revealed that the city was ample with rivers, canals, water reservoirs, tributaries, wells, natural ponds, and household water sources. This crusade encouraged people to pay more attention to their resources and the need to protect the quality of water from upstream to downstream sources.
Momentarily, the community study subject is widely accepted in other cities of Japan. It is even integrated into University curricula. Osaka University, in cooperation with JICA, has organized a training course on this curriculum for foreigners.       At the end of the conference, the former mayor of Minamata city delivered an encouraging message to our Thai team by suggesting three important tools used to tackle environmental and health problems: Science, Politics, and People Power. These three tools are compatible with the "Power Triangle Theory" in NHCO's strategy.       Dr. Amphon Jindawattana, secretary of the National Health Commission Office, shared his experiences with other guest speakers. He mentioned about the new Thai Constitution Act, Section 67, which states participation from the general public and the mechanism of environmental and health assessment. He also mentioned health system reform in Thailand in accordance with the National Health Act, Health Statute, Health Assembly, and HIA (Health Impact Assessment).
Prachern Khomtet, a key leader in Tha Chin River Lovers Club of Thailand, discussed the club's history and how it was established to solve water pollution problems of the Tha Chin River in Nakhon Pathom Province. It was a joint effort from people from all walks of life including monks, civil servants, industrial factories, merchants, millionaires, communities, and the general public. In 1998, activities aimed at keeping a watchful eye on the rivers and canals were launched consistently. The club has also supported 43 temples to raise fish in front of the temple using natural methods. Fish population serves as an efficient indicator of the water quality. In an attempt to teach children to test the water quality by themselves, and to foster a sense of environmental protection in their hearts, the club also initiated the "Stream Detective" activity. Children must make a report on what they find periodically.
After paying a visit to the National Health Commission Office, the Japanese visitors attended another special seminar on "Environmental Restoration and Community Participation: Comparative Viewpoints and Learning Through Experiences of Minamata City, Japan", held at Chulalongkorn University's Social Research Institute on February 15, they also went to Map Ta Put Industrial Estate in Rayong Province on February 16, with the Japan Foundation of Bangkok as the main coordinator. Photo: The stainless steel spheres scattered over the terrace symbolize the souls of those sacrificed, and the fishermen's lights of the Shiranui Sea.
Source: National Health Commission Office