The National Health Commission Office in collaboration with ABAC University and Chulalongkorn University arranges a series of Citizen dialogue to reach the consensus on the draft health statute and the future health system in Thailand.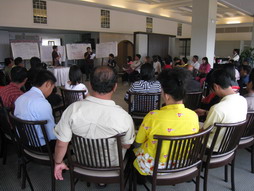 Press conference was organized at ABAC University today (16 July 2008) to mark the collaboration of the 3 organizations in arranging the series of Citizen dialogues. People at age of 18 – 70 will be selected by a stratified random sampling method all over the country to voice their opinions and concerns on future health system. The consensus from the citizen dialogues will be submitted to the subcommittee on drafting the health statute at a later stage. This health statute will be the first one in Thailand after promulgating the National Health Act. Any health related policy and strategy will be obliged to the health statute. Data sampling and collecting is conducted by Community Happiness Research Centre, ABAC University.
Dr. Nopadol Kannika, the Director of the ABAC Poll Research center, ABAC University explained the methodology of this study that combining quantitative and qualitative methods. After sampling cases, a small group discussion will be applied to reach a consensus. The Citizen dialogues plans to be held in 8 provinces; Chaing Mai , Phitsanulok, Udorn Thani, Uborn Ratchathani, Rayong, Nonthaburi, Nakhon Pathom and Nakhon Ratchasima. Faculty of Political Science, Chulalongkorn University takes charge in analyzing the opinions and concerns received from the Citizen dialogues. Dr.Jaras Suwannamala, Dean of the faculty of political science, told us that a policy would be a great benefit to the country, if its developing process allows people to take part.