LAO PDR is one of the pioneer countries in South East Asia to have HIA Decree promulgated since 2006. Benefit from Nam Theun 2 hydroelectric project commenced in May 2005, LAO PDR has drawn attention to health impact from policies.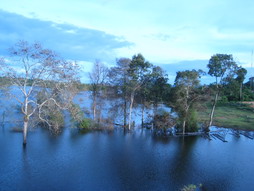 HIA 2008 Organizing Committee Members, consisting representatives of National Health Commission (NHCO) and Healthy Public Policy Foundation (HPPF), attended the meeting hosted by Ministry of Health of LAO PDR to exchange the progress of HIA in LAO PDR and Thailand. This meeting also opened up the opportunity for HIA 2008 OC to discuss about HIA 2008 Conference to be held in Chiang Mai, Thailand from 8 – 10 December 2008. Long before Nam Thuen 2 hydroelectric dam, any dams in LAO PDR including Nam Nguen dam and Nam Mang dam had no Health Imapct Assessment (HIA) conducted. Lessens learned from the past development have stimulated the Government to take health and environment into consideration.
Dr. Soutsakhon Chantgaphone, Deputy Director of National Centre for Environmental Health and Water Supply, Ministry of Health, told us a time-consuming process to have HIA policy put in place. Series of workshops on HIA at a Ministerial level down to an operational level were organized with support from the WHO and its Collaborating Centre, the Danish Bilharziasis Laboratory. The 3 years of effort led to promulgation of HIA in 23 March 2006 and its institution. Dr. Taphasavanh Fengthung, Director of Environmental Health Division, Department of Hygiene and Disease Prevention, who is in charged of HIA, explained further about the organizational structure. The HIA management Unit has been established under the direction of the MoH Steering Committee for the implementation of the National HIA Policy since December 2006. Its responsibilities are to develop the HIA guideline, conduct HIA management plan and conduct the HIA process including screening, scoping, assessment, appraisal, monitoring and evaluation of the public health action plan. Intersectoral agencies are involved in HIA as a technical focal point team namely Ministry of Health, Ministry of Energy and Mining, Ministry of Public Works and Transportation, Ministry of Labor and Social Welfare, Ministry of Industry and Trade, Provincial Public Health Office, Water Resources and Environment Agencies and Committee for Planning and Investment.
Ms. Somporm Pengkham, in charge of HIA at National Health Commission Office, shared HIA development experience in Thailand. In accordance with National Health Act 2007, the National Health Commission is obliged to prescribe the rules and procedure on HIA, NHCO has consequently established a HIA working group to draft the HIA guideline. The draft HIA guideline will be presented at National Health Assembly, December 2008. The resolution from the National Health Assembly will be reported to the NHC, if necessary to the Cabinet. The National Health Assembly is a new channel for a public policy formulation. Mr. Supakit Nuntavorakhan, a researcher of Healthy Public Policy Foundation, underlined that HIA in Thailand was an initial stage. How to translate HIA language into practice is highly concerned. Lessons learned from other countries can complement Thailand's learning process on HIA. Hence, NHCO in collaboration with strategic partners is organizing HIA2008 Conference with the objective to exchange HIA experiences, enhance knowledge and strengthen collaboration and networking in Asia and Pacific region.