An e-service system using Google Earth maps is being developed to show places where volunteers are helping distressed people throughout the country Many people want to join volunteer groups but don't know where to go.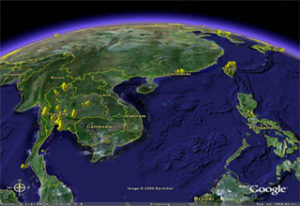 The map will help them find one. It's easy for them to connect with a group,Win Mektripop, manager of the Volunteer Spirit Supporting Project, said yesterday. The new system, with support from two ministries – Information and Communications Technology and Social Development and Human Security – is expected to be ready to serve Internet users in six months. Social activist Prawes Wasi, who chaired the meeting of volunteer networks at which the system was presented, urged the government to adopt a policy of providing programmes showing volunteers at work to encourage public support. We would like those programmes to be shown on TV and radio.
TPBS (Thai Public Broadcasting Service) should have such programmes as it is a public TV station, and it should air good deeds being done for the public, he said. The meeting was held under the National Health Commission's Humanised Society project to share experiences of volunteers in various organizations giving aid to people in trouble and to offer ideas of how to extend volunteer networks. Participants came from volunteer networks, foundations, schools and hospitals. Former public health minister Mongkol na Songkhla and former deputy prime minister and social development and human security minister Paiboon Wattanasiritham also attended.
Many stories of volunteers who have devoted themselves to the helpless, the community and the environment were aired at the meeting. They included a monk who has been providing free mental and herbal treatment to cancer patients for years and a school director imbuing the volunteer spirit in students, teachers and locals. Other examples were a group of medical students taking care of patients while they waited for treatment; and two taxi drivers volunteering to aid distressed motorists. One became an accident victim himself while helping an injured driver on a road.
Source: The Nation (Published on February 27, 2008)Wannapa Phetdee