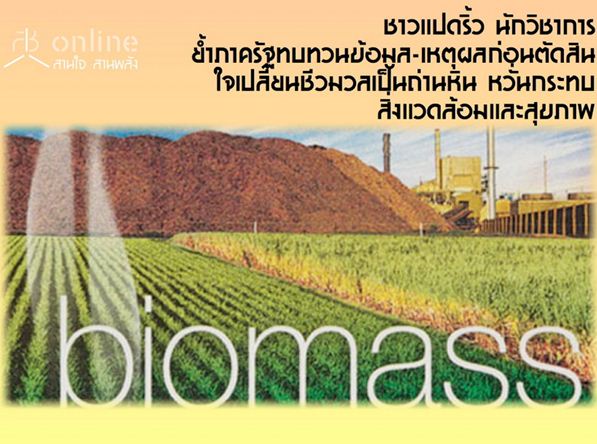 At 9.30am on June 19, the Health Systems Research Institute under the Ministry of Public Health organized a discussion on the impacts on communities of the 600-megawatt thermal power plant project in Tambon Khao Hin Son locality of Phanom Sarakham district in Chachoengsao province. Representatives of health-related organizations, communities and industries exchanged their views on the occasion.
Miss Somporn Phengkham, director of the Health Impact Assessment Coordination Unit of the National Health Commission Office of Thailand, said community dwellers had to conduct health impact assessment so that they participated in any activities that would have impacts on their life and communities. She also said that the health impact assessment (HIA) in Tambon Khao Hin Son locality designated for the coal-fired power plant was still inefficient. She proposed to conduct community-based health impact assessment(CHIA). Under the CHIA, there will be a forum where local people will be asked to comment on the possible impacts of the power plant project. Then the information will be input to a decision-making process of the cabinet.
Miss Nanthawan Handee, a coordinator of an alternative agriculture network in Chachoengsao province, said the construction of the power plant would have great impacts on ecological systems and the well-being of people in Phanom Sarakham and Sanam Chaikhet districts because the plant would massively consume local resources and emit pollution at the level that would damage the economies of local communities. Most of local people depend on agriculture, especially organic farming that must be free of toxic contamination. She thinks that the power plant will cost farmers their incomes.
Mr Wisa Hanittinan, director of the Section 1 of the Industrial Cluster 5 Bureau under the Department of Industrial Works, said past CHIA had not covered the possible illnesses or severe health hazards that might result from the power plant. He thinks it is more like environment impact assessment.
Participants in the discussion learned that the coal-fired power plant project in Tambon Khao Hin Son locality was not the first health-hazardous project in Chachoengsao province. Local people have suffered from some negative impacts of factories and a biomass power plant. The impacts are on farm products, especially mangoes and straw mushrooms that are the major products of the province and the major sources of incomes for local farmers. The impacts of the pollution cause losses and debts to some farmers because of poor yields.
Translated from Khaosod newspaper's June 20, 2012 edition
Photo source : National Health Commission Office, Thailand