Lichen survey is a simple technique of monitoring air quality aiming to raise awareness of local residents in Map Ta Phut toward their surrounding environment.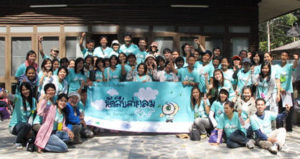 After Green World Foundation had launched the "Air Detectives" project examining "lichen", a small living organism in Bangkok in 2008, an air quality was surveyed and mapped in 214 spots, in the period of 9 months (September 2009-May 2010), by nearly 400 volunteers from 51 schools, offices and groups.
The results showed that about half of Bangkok area including city centres, traffic-congested main roads and factory-packed suburbs had "poor" to "very poor" air quality which was prone to negatively affect people' health.  The data collected was extended to the Air Detectives project in schools and enabled students to understand air quality in their neighborhoods and resulted in setting up the bicycle network with hope to lessen air pollution and traffic problems in Bangkok.
This year, the project is expanded to Map Ta Phut District, Rayong Province. The scope covers 165 – kilometre community and industrial estate area.  Lichen examination is air quality monitoring done with simple techniques accessible to everyone. The project aims to raise people's awareness towards the environment and to inspire collaborative actions to solve such problems in Map Ta Phut.
Dr.Saranarat  Kanjanavanit,   Secretary General of Green World foundation stated that air pollution in Map Ta Phut area is a persisting problem which hasbecome politically sensitive, there is a lack of trust among different sectors. As monitoring of air quality often requires expensive equipments and involves technical procedures not readily accessible to the layman, it posts a limitation for the public to verify the data. With simplebiological survey , this lichen project can obtain basic information and provide understanding on environmental situation.
The Map Ta Phut Air Detectives Project plans to train a network of civil society to survey and collect data on lichen. This network including more than 10 schools, provincial municipality, private companies and governmental departments is hoped to expand. In the future, Map Ta Phut air quality map will be developed and the project will extend in various ways. Air quality monitoring network, for instance, does not depend exclusively on data obtained from industrial factories and can provide collected data to relevant departments for the benefit of updated information on national health and environment.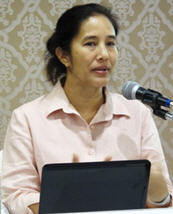 "The foundation does not expect the project to be the absolute answer for all, but an alternative solution for Map Ta Phut air pollution monitoring as it helps people to access environmental information by observing the abundance and diversity of this living organism. Even though concrete actions have not been done yet, at least Map Ta Phut people know about air quality in their neighborhood." added Dr.Kanjanavanit.
Ms. Somporn Pengkha, Director of HIA Coordinating Unit, National Health Commission Office of Thailand (NHCO), addressed that according to the National Health Act, all people are entitled to live in a healthy environment. Apparently, this project encourages people to protect such right of theirs. The term "healthy" does not include only the freedom from illness, but also living in the environment that provides abundant life as mentioned in the health statute on national health system.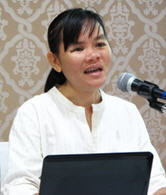 "In Map Ta Phut, accumulated environmental problems have affected people's health. Despite the use of technology and tools, knowledge on ecology has never been applied to solve such problems. Using lichen as a linkage of multidisciplinary knowledge will result in collective work of people in the area. This project would make Map Ta Phut healthy environment because it empowers the local people to collect data and solve their problems, especially environmental problems, by themselves. Community empowerment is the leverage point in problem solving" stated Ms. Pengkha.
Source:
Kornwipa Weerapanthepa, Green World foundation, posted 1 February 2011
http://www.greenworld.or.th/greenworld/local/1145