Asia Pacific report on the social and environmental determinants of health equity prepared by AP HealthGAEN network is being finalised for the launch at World Conference on Social Determinants of Health in Rio Dejaneiro, Brazil during 19 – 21 October.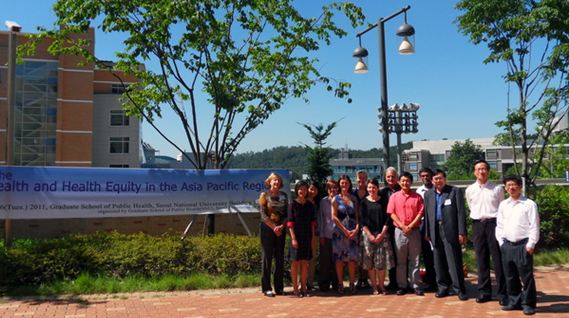 Graduate School of Public Health, Seoul National Univeristy hosted the meeting of AP HealthGAEN steering group to finalise its report during 5- 6  September 2010. This report takes the Commission on Social Determinants of Health  global recommendations and looks at the causes and actions that are taking place to address health inequities through an exclusively Asia Pacific lens.
Dr. Narongsakdi Aungkasuvapala, advisor to Thailand's National Health Commission Office and chair of Social Inequity Reductio Network, Thailand, attended the meeting as the member of the steering group. The steering group consists 19 people from Australia, New Zealand, Papua New Guinea, Taipei, South Korea, Japan, Thailand, Indonesia, Vietnam, India, Sri Lanka ranging from academia to policy makers.