The chair of the Health Workforce Commission supports the cabinet resolution to produce more health personnel for local hospitals at the level of sub-district nationwide. He points out that it will improve primary health care for people and suggests the next government work out comprehensive solutions and a proper plan to distribute the workforces.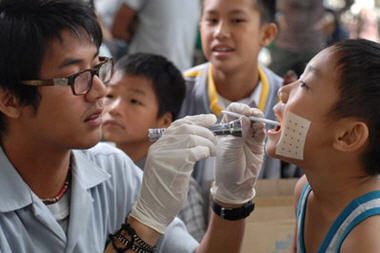 The cabinet approved in principle a decade-long project to produce and develop the personnel of sub-district hospitals from 2012 to 2021. The 10,749-million-baht project will produce 16,500 doctors, professional nurses and medical staffs to improve health services, especially primary health care as well as health promotion and rehabilitation that require resident health personnel. The cabinet also resolved to admit nurses in unrest southern border provinces as permanent government officials.
Dr Mongkol Na Songkhla, chair of the Health Workforce Commission, commented on the cabinet resolutions by saying that the plan for the long-term production of health personnel for sub-district hospitals was very good because it would improve primary health services for rural people nationwide. There are 9,750 Tambon hospitals in the country. The cabinet resolution complies with a decade-long strategic plan on the health workforce of the nation and the statue on the national health system that require the primary health care system to be recognized as what people can mainly depend on with dignity and what can be efficiently linked with other levels of health services. In this case, communities and localities will be empowered to increasingly promote good health and be independent on health care. With strong primary health services, every family will have its own health personnel who can give health advice, promote good health, prevent illnesses, treat patients and rehabilitate health. This will mean that all people, both urban and rural ones, will have access to health care.
Dr Mongkol also spoke of the cabinet resolution to admit more health officials as permanent government officials. This focuses on the creation of nearly 3,000 professional nurse positions in southern border provinces. He said the policy would boost the morale of graduating nurses, improve health services in the region and lead to long-term peace in fighting southern border areas.
Source: Social Communication Unit, National Health Commission Office of Thailand (NHCO)