Health Assembly Network revealed that a remarkable conference "a decade of National Health Assembly" is to be organized in order to review and shape its future direction. The conference will be held on 7-8th July 2011 at Chiang Mai Grandview Hotel. This is to celebrate 10 years of Health Assembly developed since 2001 as a mechanism of reforming health systems.  It has been used as a means of   policymaking on public health for the last decade.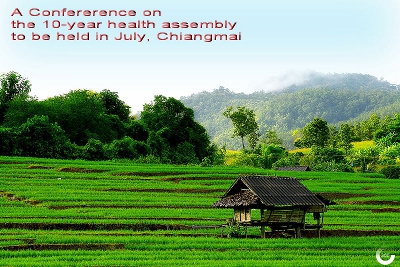 The chairperson of the conference committee, Associate Prof.  Wilawan Senaratana, addressed that the outstanding aspects of the Health Assembly involve procedures that allow public and relevant state agencies to participate in systematic and participatory meetings where they can share and learn from each other bodies of knowledge. The Health Assembly has brought about improvement of policy process to be more participatory and healthy. This improvement results in actionalble policy proposals for the wellbeing of the people.
According to Associate Prof. Wilawan, the National Health Assembly is consisted of 3 following elements
1) Issue-based Health Assembly, such as Development Plans on National Health Information System; Draft of Reproductive Health Protection Act; Strategies on Security and Ethics on Technology (2555-2559 B.E.); and the 2nd Strategies on Development of Thai Wisdom and Traditional Thai Healthcare.
2) Area-based Health Assembly at sub-district, district and provincial levels,  for instance, safe agriculture in Pijit province, food safety in Nan province, children and youth's sexual health in Sakonnakorn province,  local health management in Songkla province and etc.
3) National Health Assembly with 30 policies, for example, equitable access to essential medicines,  anti tobacco strategy and etc.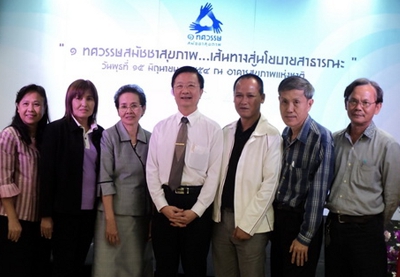 "A decade of Health Assembly" is therefore an important opportunity for its network from all over the country to get together, review their missions and consider the ways forward. The academic conference will feature exhibitions, talks and topics for group discussion such as "New challenge: Health Assembly and Development of State Policies on Health" or "Health Assembly: One Pace at a Go, One Bite at a Time".
Resource: Daily News, June 18th and 24th 2011. 
Photo source: skyscrapercity.com