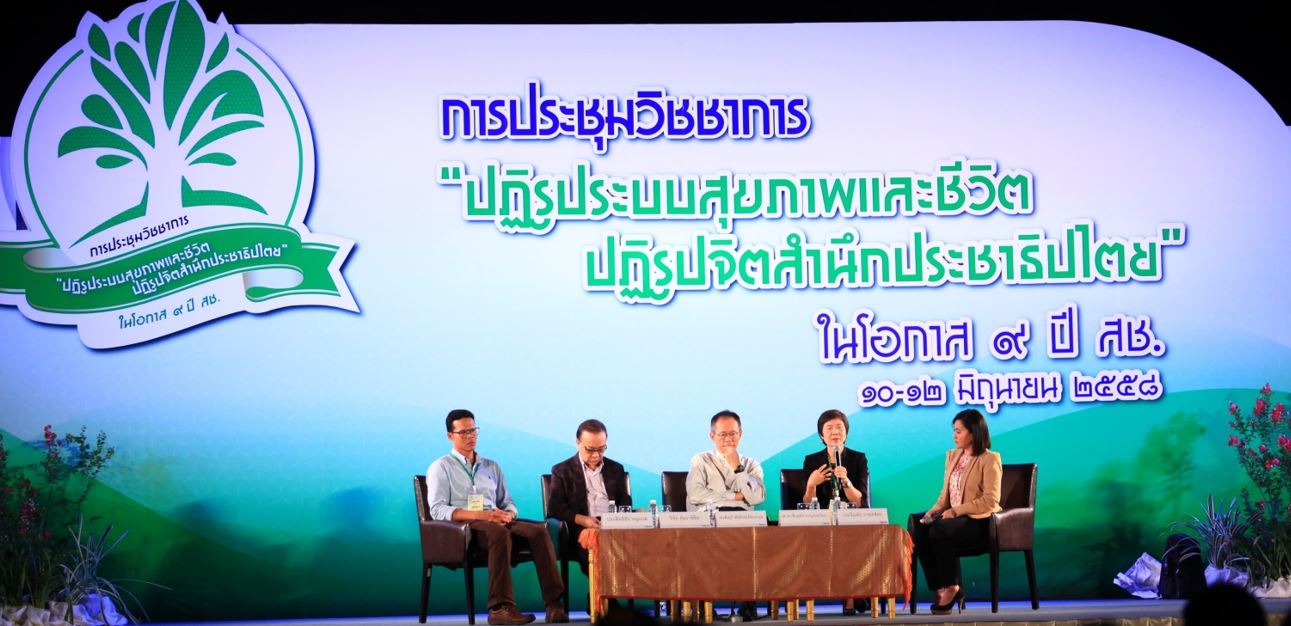 "Public policies" are widely discussed as Thailand urgently needs "reform". Importantly "public policies" must be developed with the participation of all concerned parties. This is because "public policies" have impacts on everyone, so it must not be guided or directed by any single party.
A very interesting discussion happened in an academic conference on the reform of health, life and democratic awareness. The conference was organized in June on the occasion of the 9th anniversary of the National Health Commission Office of Thailand (NHCO).
It was the discussion on the "Development of Healthy Public Policies with Participation, Statuses, Values and Recognition". Representatives of local communities, the private sector and the civil sector as well as academics shared their views on the occasion.
Vijai Amaralikhit, mayor of Phanat Nikhom municipality in Chon Buri province and former president of the National Municipal League of Thailand, said all provincial administration organizations, municipalities and sub-district administration organizations were connected and executives of the local organizations that numbered more than 7,000 nationwide were important mechanisms for the implementation of public policies and were ready to support the resolutions of the National Health Assembly which reached as many as 64 resolutions in its past eight years of operations.
However, the key to ensure their teamwork is to allow the local organizations to participate in making policies and share correct understanding on policies.
"Before being assigned to take actions, local administration organizations should have their say in and be informed of policies first. It is not right to order the organizations to implement policies made without their participation," said Mr Vijai, taking his clear stand.
There are problems about the implementation of resolutions by the National Health Assembly because only some local organizations know about the resolutions. Ministries and departments implement policies separately without their memorandum of understanding and local administration organizations were not invited to participate in policy-making processes from the start.
"When the National Health Assembly reaches a consensus, it should be translated into policies and ministries and departments implement them with clear strategies. Then local administration organizations in all provinces are informed because their actions guarantee the success of policies and public participation," said the Phanat Nikhom mayor.
Pornsilp Patcharintanakul, vice chairman of the Thai Chamber of Commerce, said the National Health Assembly intended to formulate participatory healthy public policies but participation alone was not enough. He suggested the policies must also be practical.
"To me, the successful implementation of policies needs the teamwork of five parties that are governmental organizations, the private sector, the civil sector, academics and politicians. The teamwork has not happened yet. Especially the private sector has not won trust from other parties and is always considered as the culprit," the vice chairman of the Thai Chamber of Commerce said openly.
Mr Pornsilp would like all parties to listen to the problems of the private sector. Sometimes operators were too reluctant to participate because they feared that no one would listen to them or they would face only criticisms, he said. To achieve the balance of national strategies, concerned parties should find their common stance first, he said.
Representing the civil sector, Prasitthichai Noonual, a coordinator of a network protecting southern food sources and a health impact assessment adviser to 10 southern communities, said it was good to formulate participatory public policies but policies alone were not enough. He suggested concerned parties have time to exchange views, learn and receive comprehensive information. If a policy was formulated too fast, there would be conflicts and a meaningless document, he said.
Three things should be handled with established processes and communities take part in them, especially processes to assess health impacts on communities. The first thing is the identification of local potential. For example, people living along the southern coast facing the Andaman Sea were invited to consider the potential of their region. Then they found the "Gulf of Gold", meaning the marine treasure and beauty that they value and agree to join forces to protect.
The second thing is for people to jointly identify threats against and opportunities for local development. The third one is for people to find out the development that is acceptable to all and create utmost benefits for them.
Assoc Prof Dr Churnrurtai Kanchanajitra, a national health commissioner, admitted that there were some weak points or obstacles in the NHCO's process to make public policies.
 However, she pointed out that the process was designed to correct the flaw of the representative democracy which blocks people from proposing policies directly to politicians.
Proposals from many parties are recognized as being in line with the process to develop participatory public policies,  which includes a learning process in which people have forums for evidence-based discussions.
"Forums are improved to welcome all parties, especially businesspeople, so that they can listen to problems. I admit that the initial rounds of the National Health Assembly saw heavy criticisms against businesspeople and consequently they do not want to be in the process. However, I confirm that today the atmosphere improves. Mutual trust is growing," Ms Churnrurtai said.
Assoc Prof Dr Churnrurtai pointed to a weak point that must be addressed. She said the ministries that were not directly involved with health work usually paid no attention to the implementation of public policies.
"We plan to invite ministries to make them more involved with the formulation of public policies," Ms Churnrurtai said.
Source: Hfocus on July 15, 2015
Photo source: National Health Commission Office