Globally, alcohol consumption is the third leading risk factor for death and disability. More than half of deaths due to harmful use of alcohol are resulted from non-communicable diseases such as cancers, cardiovascular diseases, liver cirrhosis, and infectious diseases such as HIV and TB as well as traffic accidents.  In addition, alcohol consumption leads to impoverishment, domestic violence and alcohol dependence.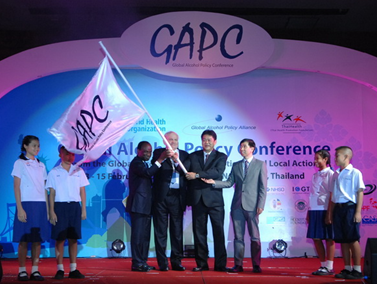 As a result, the Ministry of Public Health of Thailand in partnership with Thai Health Promotion Foundation, World Health Organization and Global Alcohol Policy Alliance hosted the Global Alcohol Policy Conference (GAPC) in February 2012, in Thailand. The conference aimed to promote and support action to fulfill the WHO Global Strategy to Reduce the Harmful Use of Alcohol endorsed by the World Health Assembly in May 2010.
The 1,216 participants from 59 countries, including parliamentarians, government officials, scholars and civil society has committed  to integrate the evidence-based and cost-effective or "best buy" interventions including pricing, limitation on availability and marketing into the national development agenda.  To access the final declaration and conference proceeding, please visit www.gapc2011.com. The next GAPC will be held in October 2013 at South Korea.