The cabinet resolution on 8 February 2011 demanded that Ministry of Industry slow down the issue of mineral lease of Tungkum Company Limited on plot no. 104/2538 and others until the report on contamination; worthiness of natural resources and mineral royalty ; self-reliance of livelihood of the locals; and health impact assessment (HIA) is summarised. Relevant departments will be ordered to provide remedies to the locals as the result of villager's grievance on impacts caused by Phu Thap Fah gold mining of Tungkum Company, in Khaoluang Sub-district, Wang Saphung District , Loei Province.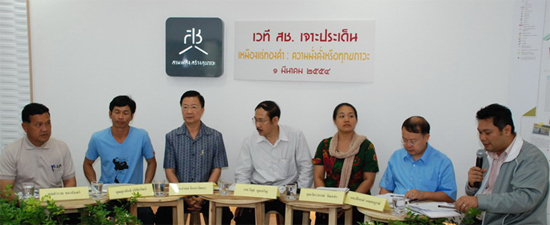 National Health Commission of Thailand (NHC) opened a discussion forum on "gold mining: wealth or suffering" in March 2011 with participants from related departments and the locals who have been affected for sharing of experiences, points of views and to reveal HIA report for the first time.
Dr. Amphon Jindawatthana, secretary-general of National Health Commission NHC) stated that National Health Act acknowledges rights and duties in respect of health: Section 5. A person shall enjoy the right to live in the healthy environment and environmental conditions; and Section 11. An individual or a group of people has the right to request for an assessment and participating in the assessment of health impact resulting from a public policy and shall have the right to acquire information, explanation and underlying reasons from state agency prior to a permission or performance of a programme or activity.
In 2008, NHC, Foundation of Well-being Policies and the locals of Na Nong Bong village, Khaoluang Sub-district, Wang Saphung District , Loei Province started Community Health Impact Assessment  (CHIA) which is one among 4 channels of  principles and procedures in assessing health impact from public policies effective since 8 November, 2009.
"In Loei, community initiated assessment on health impacts caused by Phu Thap Fah gold mine. The work has resulted in information, body of knowledge and suggestions on solutions for health problems which also leads to decision making in policies on gold mining in Loei. Various bodies are working together to provide healthy environment and environmental conditions for people in Loei."
Dr. Pattapong    Katesomboon, lecturer of Faculty of Medicine, Khon Kaen University, mentioned results of blood testing done with 440 people living in villages around the gold mine, as a part of the study titled "Health Impact Assessment with People Living around the Gold Mine, Khaoluang Sub-District, Wang Saphung District, Loei Province, Fiscal Year 2552 B.E.". The blood drawing was done in 5-6 and 19-21 June by Loei Provincial Health Office and Wang Saphung Hospital. The samples were referred to Ramathibodi Hospital for cyanide testing and to Bureau of Occupational and Environmental Diseases, Department of Disease Control, Ministry of Public Health for heavy metal (mercury and lead) testing. The test results showed that heavy metal, especially mercury, was found in every sample and 38 are over standard level. Also, cyanide was found in 348 blood samples, with 84 people having it over standard level. Only 103 samples are cyanide-free and lead was found in every sample.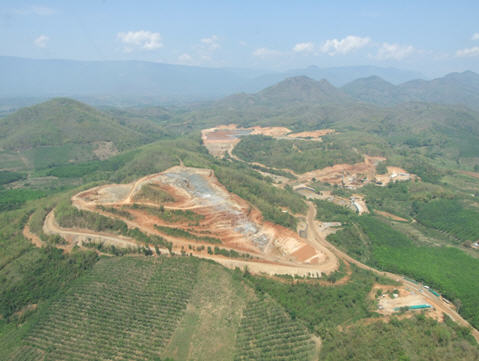 Arial photo of gold mining in Baan Thung Khum, Khao,  Khaoluang Sub-District, Wang Saphung District, Loei Province in 2008
"The results are derived from official disclosure of Loei Provincial Health Office on 2 February. It is presumed to be caused by residues in water and result in rashes and skin problems. Some domestic animals die without clear causes. This is really health-threatening. HIA will encourage culture of participation of all stakeholders as it does not only examine overall impacts, but its process also encourage communities to realize their rights and duties. This will support the progress of democratic culture in Thai society as democracy is not merely the act of voting."
Mrs. Watcharaporn Wattanakhum, head of campaign and promulgation section, Foundation for Sustainable Conservation and Development of Loei stated that apart from gold mining, other minings cover different areas of Loei, including the illegal ones. In gold mining case, villagers have studied and collected data on health impact and presented to relevant authorities, such as the Prime Minister's Office, for decision-making and remedies of the existing impacts
Dr. Wiput Phoolcharoen, Chairperson of Committee on Development of Systems and Mechanism for Health Impact Assessment, stated that Loei has its visions as live-able city of tourism and investment under sustainable development. However, actual situations and HIA report done by Nong Nabong community showed incoherence of central development policies and local needs which leads to negative impacts and conflicts. Therefore, integrative policies from the centre and locality should be encouraged to serve local needs and contribute to social well-being.