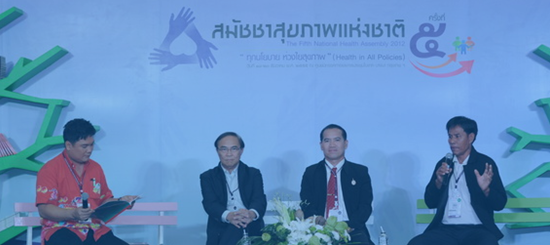 The term "Health Statute" was quite new to me until I participated in the conference titled "Health in All Policies, Local and Community Level" during the 5th National Health Assembly Forum hosted by the National Health Assembly Organizing Committee from December 18-20, 2012.Mr. Suriya Aramreung, Village Headman Assistant from Khlong Arang Village, Bang Gang Sub-district, Muang, Sakaeo Province which conducted village health statute told a story about himself as a former heavy smoker whose family wanted him to quit the habit. In his village, people sign up and commit themselves in activities such as smoking or alcohol-free days. They have open forums and set up agreement as health statute.
"This kind of forum acts as a mirror reflecting an individual's behavior which will be corrected by the others surrounding him. As for me, I had been thinking hard about stopping smoking. On the forum day, my grandchild said he wished I would quit smoking and I told him to tie a string on my wrist. Then my 70-year- old mother did the same, followed by my youngest child, my wife and grandchildren. My wrist was full of strings and I did not even know if I could possibly stop smoking. The next morning I woke up, the desire to light a cigarette came to me as usual when I saw those strings, the thought came up that everybody in the family and community morally supports me in quitting smoking and I made up my mind to quit since then".
At this point, the moderator asked the audience to give him a big applause as "he can quit smoking because of the others in the community".
Khlong Arang village's Health Statute which started in 2012 consists of 12 sections including moral and ethical principles, good society, appropriate control and management of environment, favorable healthcare system, etc. The contents are simple and section division processes were done by community people and finalized by the village committee.
When asked about the changes in the community after the statute was set up, Mr. Suriya answered,
"First we have to thank organizations/departments who educate and provide such good opportunity to the community. Concerning health problems, once one gets ill and dies, money is no help. The government is also burdened with the costs of healthcare. So I think we are coming the right way. Concrete changes we get from having the health statute is the participation from all. We all share public mind and are willing to do good things for the society. The next step is to create health statute in sub-district and provincial levels. This is a good sign and it will last for generations".
Regarding the question on the guardians of the rules, the answer is, "Everyone in the village is the guardians as we participated in setting up the rules altogether. When smoking, drinking and gambling is gone, we move to other issues. We create awareness raising on sufficient economy which will help us to a self-sufficient and contented life".
The next one is the Sub-district Health Statute of Peau Sub-district, Leu Amnat District, Amnat Chareon Province.
Peau Sub-district is composed of 13 villages with the population of 7,200, among which a thousand are the elderly.
Mr. Rungroj Chomrak, the Municipality Mayor, stated that the community area is semi-urban with active working organizations.  Yet, the major concern is health problems including contagious and chronic disease. He worked very hard to come up with solutions to the problem and he also made a commitment in the municipality council to push forward issues on well-being.
"We set our goals but we could not sit and wait for help from public healthcare staffs. We then worked in collaboration by encouraging the community to participate in creating tools to work on health issues. Community people know better about their own problems than the Mayor. We set up 3 working strategies. First of all, I announced with my strong will that all staff has to commit in pushing forward the health issue as well. In monthly meetings, information is passed through local staffs before the council's approval of the budgets. I tried to come up with something easy for people to recognize and "Peau Rungroj" (Shining Peau) is the project title."
The second matter is to set up working mechanism. We cannot do everything ourselves, so 4 committees were assigned. The Statue Drafting Committee consisting of local teachers was organized; a working group is set up in every village and we also coordinate with supporting team from public health offices who share valuable comments and academic approaches. Lastly, mobilization mapping will be active from the 20th of March 2013, with the slogan "Well-being, Strong, Loving, Sharing and Learning Community For All in 2016".
The year 2016 is set as a goal so that the concrete outcomes can be visible for the community. Within 5 years, at least the primary goal which is the better health of people of Peau Sub-district should be achieved.
When asked about sustainability of the statute in case the Mayor is changed, Mr. Rungroj raised a small health statute booklet in his hand and said:
"Every single word in this booklet was done by the people. The Municipality acted only as the coordinator. Building people costs much less than infrastructure but this costs nothing and will be the heritage of Peau people".
Will the "Peau Rungroj Health Statute" win people's heart? The result of the forthcoming municipality election on 17 January 2013 might be the indicator. We will see.
"Empirical outcomes will show and the villagers will make the decision". Mr. Rungroj added.
In the next level came Pitsanulok Municipality to share their experiences.
Mr. Suthee Hantrakhul, Deputy Mayor of Pitsanulok Municipality said that the Municipality made an agreement with the National Health Security Office, received some funding support and produced their own plans on public healthcare. Local people's opinions were gathered and turned into public policies. The Health Statute includes 3 concerns: 1) obesity which followed by diabetes; 2) Youth concerning issues such as teen pregnancy, VDO games addiction, etc. and; 3) dengue fever. The revision is hoped to happen in every 2 years as it needs a lot of manpower.
As it covers a large area, when asked how to deal with different needs from different areas, the answer from the Deputy was as followed:
"Difference is charming. Each community has the right to propose any project. Yet, it has to be in coherent with the 3 major issues mentioned above".
"The point is to start with small projects, make them successful and sustainable and then expand them further. We do not start with big projects because the cost of failure is much higher".
This is the words of wisdom from the Deputy Mayor of Pitsanulok Municipality which seems in the opposite direction with most politicians' who like to initiate huge projects with high compensation.
No need to ask whose pocket the compensation goes into.
Story by Krawan & Kanploo,  the Nation Weekend, 4th January, 2013
Photo by NHCO