The 7th Senior Officials Meeting on Health Development (SOMHD) of ASEAN acknowledged the terms of reference of and the framework for ASEAN Focal Point on HIA.
Dr.Wiput Phoolcharoen, Chair of HIA Commission, Thailand reported the achievement of 1st HIA Workshop on the TOR and its framework to 7th SOMHD Philippines during 26-28 March 2012. Thailand was assigned by SOMHD to be a lead country to coordinate HIA Focal Points in ASEAN countries to develop the TOR and its framework.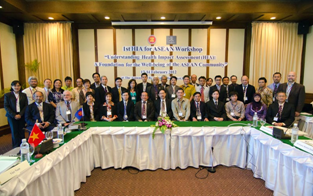 The HIA focal points will play the role in promoting institutionalization of HIA in ASEAN and advocating for HIA as an effective means to enhance awareness of the impact of public policies and economic integration on health. HIA will also help develop strategies to mitigate and prevent the negative impacts of development.
Today HIA is being implemented in a number of ASEAN member states. In Cambodia, Lao PDR, and Malaysia, HIA is anchored within environmental frameworks relying on government decisions to integrate HIA within Environmental Impact Assessment (EIA) programmes.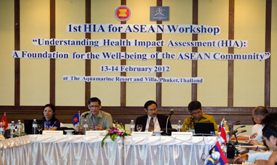 Thailand's approach uses a public policy process to advocate HIA at the policy level as well as in EIA and at the community level. Grassroots communities and local government authorities are able to initiate and conduct their own HIA.
Currently, Thailand and Vietnam are applying HIA in case studies on various topics. These vary in scope and size, from national policy on transportation, agriculture and energy to public health and disease control programs. These case studies are providing experience to be learnt from in order to further develop HIA. Many HIA case studies, such as in Lao PDR, apart from being a good learning process, have proven to be very useful in providing supportive information for EIA reports.