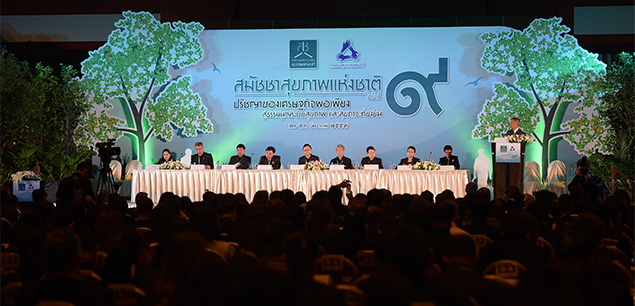 10th National Health Assembly
20 – 22 December 2017
IMPACT Forum Exhibition & Convention Center
Nonthaburi Province, Thailand
The NHA Organizing Committee has decided to convene the 10th National Health Assembly (NHA 10) under the theme of 10 Years of National Health Act towards the Well-being of Society from 20 – 22 December 2017 at IMPACT Forum Exhibition & Convention Center Nonthaburi Province, Thailand
With the four criteria for selection of proposed NHA agenda items that are 1) importance and urgency of the issue 2) magnitude of the problem 3) public interest and 4) feasibility of the issue to drive into policy or implementation, the NHA Organizing Committee had a resolution to announce the four agenda items of NHA 10 as follows.
Promotion of physical activity at all ages
Development of playground for early childhood and primary school children
Community based approach to prevention and control of drug abuse and addiction
Sustainable participatory community waste management
Moreover, eight passed resolutions will be reported the progress of their implementation
National Policy for Health System Development in Multi-Culture Areas in Southern Boarder Province (NHA 1)
Mechanism and process of Health Assembly (NHA 5)
Policy Development to Integrate the Mechanism for Protection of Children, Youth and Family from Risk Factors (NHA 7)
Wellbeing of Rice Farms : Strengthen Network of Rice Organizations (NHA 8)
Reviewing NHA Resolution on Management of Smog Haze Affecting Health (NHA 8)
Urban Health System : Participatory Development of Health Service Systems (NHA 8)
Policy on Reduction of Salt and Sodium Consumption to Reduce NCDs (NHA 8)
Crisis of Antibacterial Resistance and the Integrated Problem Solving (NHA 8)
After adoption at the National Health Assembly, all resolutions will be submitted to the National Health Commission which is chaired by the Prime Minister. The Commission will consider taking appropriate actions to achieve the resolutions, including, if necessary, submitting to the Cabinet.
In parallel with the submitting process of the resolutions to the National Health Commission and further to Cabinet, the NHA Resolution Follow-up Committee started working to follow up and drive the resolutions into action.
2.

Agendas
Promotion of Physical Activity for Thai People at All Age Groups
Community-Based Approach to Drug Abuse Addiction
Development of Play Spaces to Enhance Well-being of Early Childhood and Primary Schoolchildren
Main Document
Resolution
Annex
Sustainable Participatory Community Waste Management
Main Document
Resolution
Annex