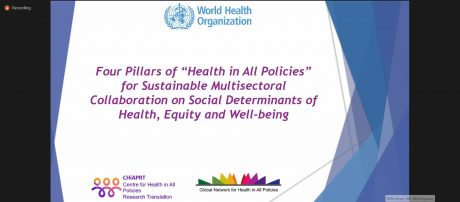 New Health in All Policies Model and its Unlimited Potential
At the online webinar 'Four Pillars of Health in All Policies for Sustainable Multisectoral Collaboration on Social Determinants of Health, Equity and Well-being,' on May 12,2022, hosted by Global Network for Health in All Policies (GNHiAP), World Health Organization (WHO) and Center for Health in All Policies Research Translation (CHiAPRT), all the panelists discussed the potential effect of Health in All Policies in their respective countries and its role in achieving health equity.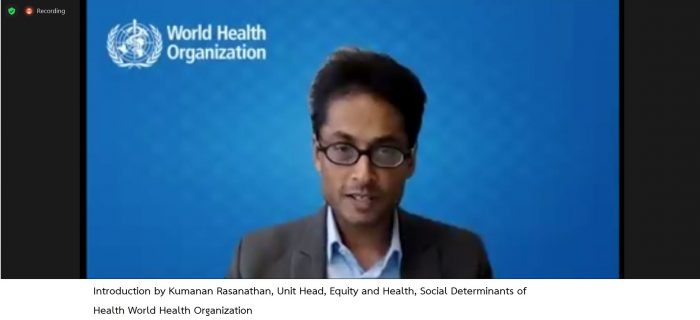 Health in All Policies (HiAP) was coined up from the Alma Ata declaration in 1978. It aims to eliminate health inequity and take health into consideration of in diverse areas of polices. This process entails global cooperation, time, and effort to be situated since every country has its distinct social context that may hinder the establishment of HiAP. In this webinar, the newly formed guidance by WHO, 'Sustainable Multisectoral Collaboration for Addressing the Social Determinants of Health, Equity, and Well -being,' was introduced, and panelists discussed the application of this guidance to their respective countries.

Achieving health equity has some hurdles to overcome. Dr. Nicole Valentine, a WHO program lead and technical officer, stressed the three levels of HiAP implementation that are ideological (political complexity), technical (designing the details), and operational (misunderstandings from institutions and people, underrepresentation of certain populations) barriers as challenges. To practically address and overcome these barriers and better the social determinants of health, the four pillars of HiAP take the lead in this process.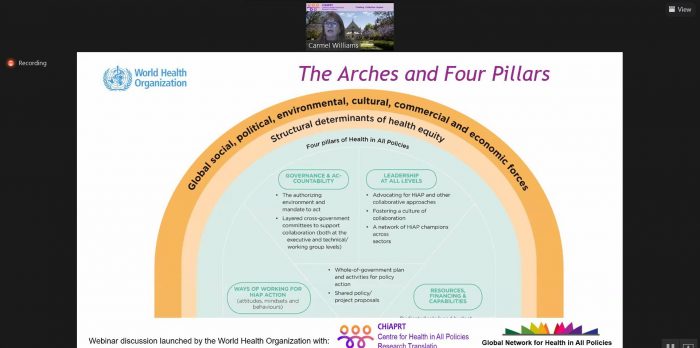 Ms. Carmel Williams, Director, Centre for HiAP Research Translation at Health Translation emphasized that the four pillars of HiAP lead to multisectoral collaboration in achieving health equity. These four equally indispensable pillars are Governance and Accountability, Leadership at All Levels, Ways of Working, and Resources, Finance and Capabilities.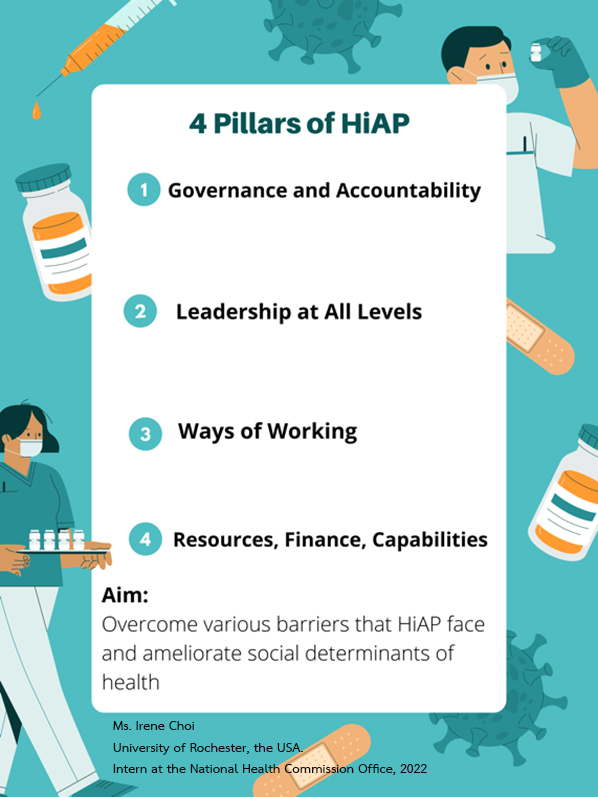 First of all, Governance and Accountability refer to the importance of the government's authoritative and collaborative role in HiAP. To initiate collaboration, the government must manage the environment to adapt to HiAP and encourage collaboration when addressing projects and policy agendas. It would also be crucial to effectively utilize existing government structures and adjust this approach to fit its own country's context and social environment.
Leadership at All Levels emphasizes recognition of leadership in different sectors, advocacy for collaboration, and horizontal governance. Making collaboration part of the working culture would foster better connections between people and enable broader management of social determinants of health.
Ways of Working underscores trust-based collaborative work through co-design, co-production, and co-benefit. These collaborative tools are the key to maintaining long-term solid relationships and yielding effective outcomes through teamwork.
Resources, Finance and Capabilities address budget sufficiency and capabilities as an investment to sustain HiAP activities and its networks. This pillar aims to work collaboratively in an environment with differing interests and complicated political contexts.
All 4 pillars are equally important to build and sustain HiAP in a country. No fixed order or priority for application is suggested depending on a country context, window of opportunity and requirement of each pillar.
During the discussion from the panelists, each panelist shared their resonance with the guidance and four pillars of HiAP, examples of their work, and potential challenge of this guidance.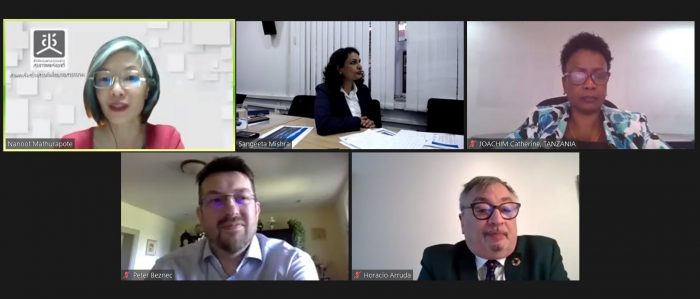 Dr. Sangeeta Mishra, a Chief of Health Coordination Division, Ministry of Health and Population in Nepal has explained that Nepal has different levels of government (federal, provincial, and local) with their independent mandates, along with a wide range of high-level committees across the government.  She agrees that the collaboration of horizontal and vertical governance resonates with her own experience. Nepal has just developed the Multisectoral Action Plan to reduce NCDs problems. This plan highly requires collaboration across sector and at all levels. Furthermore, they have also launched 'My health My responsibility' to underscore individual responsibility in protecting their own health. Dr. Mishra pointed out change in leadership that hinders sustainability and unequal distribution of resources needs more improvement. For potential solutions, she proposed joint management in planning and financial management to keep checks and balances on each other's work.
Dr. Peter Beznec, a Director of the WHO Collaborating Center in Slovenia, believed that the encompassing nature of this new guidance would enable adaptation of this approach at different administrative levels. Countries would also be able to identify their imminent need among those four pillars and focus on the one they need to work on more. Dr. Beznec pointed out advocacy for HiAP and capacity building as the most critical elements. He has exemplified this through the cooperation among regional development sectors, their leaders, and WHO, who are the strong advocates for ameliorating regional development. In addition, he identified sustainability as a major challenge in this approach. As for solutions, he suggested active participation from diverse fields of society, more structured funding in projects, and investment in building capacities.
Dr. Catherine Joachim, the Head of the Health Sector Secretariat, Ministry of Health in Tanzania, explained that they had applied most of the pillars in their 'One Health Approach,' but she thinks there needs to be more improvement in collaborative ways of working in subnational level and practical allocation of resources. She emphasized that political will and leadership are essential elements that should not be minimized. In Tanzania, the Prime Minister manages 17 ministries in driving policies. These sectoral ministries dedicate themselves to HiAP and address social determinants of health. She believes allocation of resources and complexity of competing priorities are the significant challenges they face. To overcome these barriers, she emphasized the need for political networks, such as extending the HiAP communication with governmental organizations like the parliament.
Dr. Horacio Arruda, the Assistant Deputy Minister in Health Promotion and Prevention for Québec's Ministry of Health and Social Services and a Chair of the GNHiAP, emphasized the government's role and Prime Minister specifically. Government must understand and be aware of the purpose of taking this approach and be accountable for their work. Maintaining relationships with higher-level authorities and the leadership role of municipal and local governments must be acknowledged. We should also understand that politics and governance are complicated and that it may take some time for them to make compromises under clashing interests and objectives. An example of his work is a cross-sectoral regional table on healthy living habits, which entails collaboration and harmony of governmental and non-governmental leadership. Dr. Arruda identifies the need for evaluation to understand better and complement missing parts of the approach. Since healthy leadership determines the finance and investment in public policies, it is crucial that the administrative leaders are knowledgeable in HiAP to better respond to the citizens' needs.
At the end of the session, Ms. Nanoot Mathurapote, Head of Global Collaboration Unit, National Health Commission Office, Thailand and an Executive Board member of the Global Network for Health in All Policies, announced the next activity of the network. The Q&A session on the WHO guidance will be organized in different languages and time zones around once the Guidance is published.
For webinar recording and presentation, please click here
Reported by
Ms. Irene Choi
University of Rochester, the USA. Intern at the National Health Commission Office
Ms. Khnaitta Sae-iew, National Health Commission Office, Thailand
For more information, please contact
Ms. Marianne Jacques
National Collaborating Centre for Healthy Public Policy (NCCHPP), Quebec, Canada
Coordinator for the Secretariat of the GNHiAP
gnhiap@inspq.qc.ca.