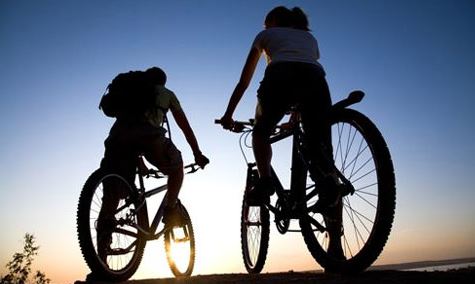 The National Health Commission (NHC) proposes the cabinet to treat cycling promotion as local and national agenda and have relevant organizations develop infrastructures to support cyclists including the introduction of bicycle lanes and bicycle parking lots at government offices nationwide, beginning with universities and local administrative organizations throughout the country.
After attending the 4/2556 meeting of the NHC on the development of systems and infrastructures to promote walking and cycling in everyday life, Deputy Prime Minister Pongthep Thepkhanchana said the development would allow Thai people to equally use public space.He referred to motorists, motorcyclists, cyclists and pedestrians. He said regulations, laws and measures should be modernized to respond to the increasing use of bicycles and there should be campaigns to encourage people to use bicycles or walk at their short traveling distances of 1-5 kilometers. By this means, people can exercise and reduce the risks of dangerous diseases like heart diseases, obesity and cancer. The behavioral change will also comply with the government policy to promote the good health of people, conserve the environment and save energy.
Mr Pongthep also said that the NHC supported the resolution to promote walking and cycling and would forward it to the cabinet. It calls for the realization of daily walking and cycling by having local administrative organizations and 120 universities nationwide launch campaigns for walking and cycling in the first place. He emphasized the safety of pedestrians and cyclists.
Thongchai Panswad, chairman of the Thai Cycling for Health Association, said the resolution from the 5thNational Health Assembly that the NHC approved needed cooperation from all relevant organizations. He urged for the clear methods and timetables of the implementation as measures need different times to be accomplished. Many organizations are actively campaigning for cycling in everyday life, including the Bangkok Metropolitan Administration that has introduced bicycles on loan in crowded areas.
Besides, the NHC also resolved to convince the Thai society to eradicate asbestos as soon as possible. It agrees with the National Health Commission Office (NHCO) that proposes the cabinet review its plan and timeframe for the end of the import, production and sales of big wave and double wave corrugated roof tiles with the content of asbestos. The NHCO proposes the grace period for such products to be shortened from five years as recommended by the Ministry of Industry to two years because both kinds of tiles can be produced with other raw materials or replaced with other products. Besides, many manufacturers have produced asbestos-free roof tiles. This is to protect the health of workers and consumers and prepare for international marketing.
Source: Manager Online's August 17, 2013 edition
Photo source : http://www.esanguide.com/news/detail.php?id=7792