A deputy prime minister gave a green light to implement food systems management strategies that will integrate the efforts of concerned organizations to supervise overall food production processes that involve raw materials, farmers and operators in order to relieve consumers' concerns following the findings of considerable residues in food. Instruments to check the quality of vegetables and fruits at distribution centers are recommended while the Ministry of Public Health plans to begin with its Food Safety project.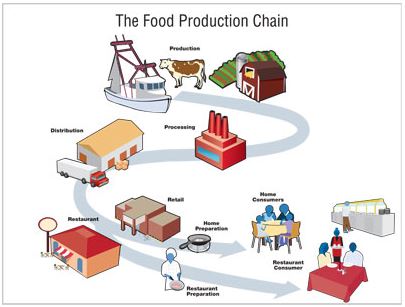 A recent meeting of the National Health Commission chaired by Deputy Prime Minister Pongthep Thepkanchana discussed food systems management in Thailand and seriously called for it.
Mr Pongthep, Deputy Prime Minister said strategies for food systems management in Thailand resulted from the intention to improve the life of Thai people in all dimensions in order to prevent the health threats that important foods and agricultural products cause. The strategies will result in the maximal provision of quality, adequate and safe food for people. Concerned agencies will join forces to solve problems systematically and their solutions will comprehensively address food chains covering raw materials, factors of production, farming, cutting, processing, cooking and transport to ensure that every stage is safe.
Dr Pradit Sintawanarong, the Minister of Public Health, said his ministry would proceed with its Food Safety project to protect consumers. Locally marketed rice will be checked thoroughly to guarantee its standard. Food products will be required to bear labels describing their sugar and sodium contents so that consumers can keep their consumption at healthily suitable levels. Such labels will communicate the information in simple language so that consumers can decide whether they should buy particular products. Such labels should be attached to beverage bottles among other kinds of product packaging.
Prof Emeritus Dr Kraisit Tantisirin, chair of a committee working out the food management strategies of Thailand, said food cycles were supervised by 17 agencies, governed by more than 30 laws and driven by more than 10 committees of the government, academia, the private sector and the civil sector. They include the National Health Assembly that has issued resolutions on strategies for food safety, the Office of the National Economic and Social Development Board, the Ministry of Interior, the Ministry of Agriculture and Cooperatives, the Ministry of Public Health and the National Research Council of Thailand. Although they have good guidelines for their work, their management is complicated and they lack unity in problem solving.
Strategies for food systems management in Thailand will integrate their work to increase efficiency. The strategies are also in accordance with the policies of the government to promote good health, reduce illnesses, mortality and the impacts of non-communicable diseases, build the good environment that helps ensure good health, educate farmers about the appropriate use of chemicals, develop them into smart farmers, promote food export, invest in comprehensive water management, expand farmland to guarantee food security, promote fair land possession and implement the rice pledging scheme to protect rice growers' income.
National Health Commissioner Suradet Detkhumwong referred to the use of health assembly as a tool to work out local food systems management policies. He said people in Phichit province had had severe health problems because they had used chemicals in their plantations. Then provincial authorities, local leaders, farmers and general people joined forces to work out solutions. Tambon (sub-district) administrative organizations mobilized local capable people to help them find ways out and every provincial governor gave full support.
According to information from the public health office of Phichit province, blood samples of farmers were tested for chemical residues and the tests found high, risky and unsafe levels of chemical residues in farmers' blood. Chemical residues in consumers tend to rise as well. The percentages of people with such contamination in their blood rise from 23-25% to 33-34%. Rising accordingly are the number of people falling ill for contact with chemicals used in farming and the number of cancer patients. Concerned parties then brainstormed ideas to solve the problems. They concluded that Phichit province must become a green society or a poison-free province. Farmers, patients, members of health promotion clubs, staffs of local clinics and officials of the Ministry of Public Health join forces to turn the poison-soaked land of Phichit into a golden land. As the efforts have worked for a period, people in Phichit now dare eat local crabs, fish and morning glories. The quality of soil and water in the province improves. Local people can produce fertilizers by themselves. There are the places where producers meet consumers, such as the markets of organic products at local clinics. The achievements are likely to be introduced to other areas.
Source : National Health Commission Office
Photo source : http://www.cdc.gov/outbreaknet/investigations/