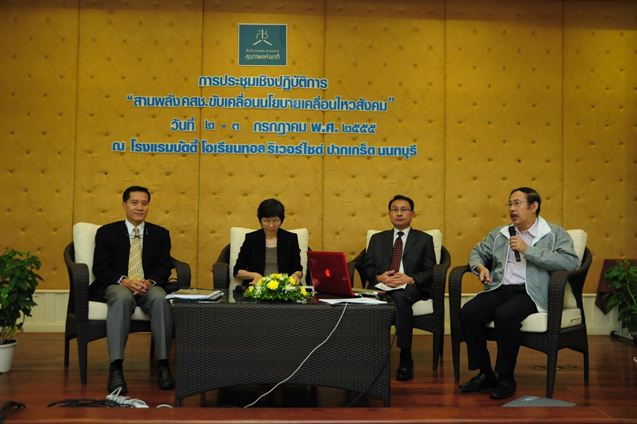 NHCO held a forum to discuss the impacts of the ASEAN Economic Community with the concern that there may not be enough health personnel to serve patients from neighbouring countries and medical services for Thai people may be affected.
Meanwhile, technology-supported transnational services become popular and lucrative and start to cause the brain drain. The NESDB recommends increases in returns and budgets to solve the problem.
From right to left Mr. Weerasak Khowsurat, Dr. Churnrurtai Karnchanachitra, Mr. Chuwit Mitrchob, Dr Wiput Poolcharoen
On July 3, 2012, the National Health Commission Office of Thailand (NHCO) organized a workshop on policy implementation at Buddy Oriental Riverside Hotel in Pak Kret district of Nonthaburi province. The workshop drew nationwide partners of the National Health Assembly Network and included a discussion on the impacts of the ASEAN Community on health systems.
Dr Wiput Poolcharoen, Chair of the Health Impact Assessment (HIA) Board, said liberalization under the formation of the ASEAN Economic Community (AEC) in 2015 would bring radical changes to medical services in Thailand especially in regard to medical personnel that might be insufficient because a number of patients from neighboring countries would arrive to seek treatment in Thailand. Besides, cross-border electronic services will play important roles in medical businesses in the future.
There will be four areas of health-related activities: (1) remote services including teleconsultation, teleradiology and robotic surgery or practice; (2) cross-border services including the planned roles of Thailand as a medical hub for tourists and those desiring sex change operations; (3) investment in hospitals, health services and medicine production in neighboring countries; and (4) the transfer of health-related workers such as specialist doctors, nurses and technicians.
Dr Wiput said Thailand had high potential to compete with such neighboring countries as Malaysia and Singapore to become the medical center of the region because a number of wealthy people from small countries namely Laos, Cambodia, Myanmar and Vietnam seek medical treatment in Thailand in addition to people from Europe and the Middle East who are already pleased with medical services in Thailand. Indonesians usually seek treatments in Singapore. Stable Thai hospitals are looking for investment opportunities in the region, for example in Myanmar and Vietnam that enjoy rapid economic growth but still have poor health services.
"The formation of the ASEAN Economic Community will bring 4-5% of rich people from many countries in ASEAN to seek treatments at hospitals in our country. Their number will be very small but we must use a number of medical personnel to serve these wealthy people. The shortage of the personnel has started and consequently Thai people do not receive good services," Dr Wiput said.
The Chair of the HIA Board said the Ministry of Public Health should take the opportunity to plan workforces and technologies to cope with the radical changes that would happen in the next 10-20 years instead of considering only competition by other Southeast Asian nations; otherwise, it would create serious limitations. The ministry should take the ASEAN Economic Community as an opportunity for its own development as medical businesses have changed. For example, hospitals in the United States are sending over 60% of their X-ray images electronically to seek opinions from doctors in India. Thailand should join forces with other countries in the region to develop health personnel.
Besides, The NHCO should be the center of a health network that is free of bureaucracy as there has not been significant progress in the ASEAN health promotion initiative called "Yogyakarta Declaration" since its introduction a decade ago or in 2002 aimed at developing ASEAN as a community of people who have good physical and mental health and live happily in safe environments.
Dr Wiput said the formation of the AEC would increase the importance of health impact assessment (HIA) in accordance with the expansion of economic activities, trade and investment. He commented that Thailand had to inform its neighboring countries that decisions on health impact assessment belonged to not only the government but also the people's sector and the Administrative Court.
Mr. Chuwit Mitrchob, Director of the Competitiveness Development Office under the Office of the National Economic and Social Development Board (NESDB), said liberalization that would result from the AEC would raise foreigners' demands for medical services and might cause Thai people and foreigners to compete for health resources. Therefore, concerned governmental organizations should prepare relevant measures to reduce negative impacts. They should include monetary and financial measures to compensate affected Thai patients, adjusted returns for health personnel and possibly the import of health personnel from other Southeast Asian nations.
Under the liberalization, Thailand must increase the shareholding of Southeast Asian investors in its health businesses to 70%. This will enable foreign investors to increasingly compete in many businesses including hospitals, spa parlors, clinics and schools. Meanwhile, Thai investors will be able to invest in neighboring countries such as Myanmar and Laos where there are demands for health services. However, the government must offer privileges to potential Thai investors to support their health-related businesses.
Mr Chuwit said that concerned parties would have to watch out for the possibly increasing epidemics of communicable diseases, especially the diseases that would occur along with development projects and cross-border movements. Besides, Thailand will be exposed to more health risks that will arrive with the influx of foods and some products like cigarettes and liquors. Therefore, the government must integrate networks to watch out for emerging diseases in the region.
The director of the Competitiveness Development Office said the AEC would bring about a number of mega investment projects because countries in the region would develop networks of infrastructures among themselves. In Thailand, mechanisms for environmental impact assessment (EIA) and HIA must play more roles and the people's sector must be strong and may form a regional network.
Mr. Weerasak Khowsurat, former minister of tourism and sports and former director of the International Institute for Trade and Development (Public Organization), viewed that the AEC might lead to new health risks. For example, the liberalisation of cross-border cargo transportation may let trucks carry chemicals from neighbouring countries and dump them in Thailand. This will be similar to what happened in the United States and is called "midnight runs", referring to trucks dumping chemicals on the roadside. It took 4-5 years for the United States government to be aware of the illicit business.
ASEAN is interesting the West as well as such world powers as China, Japan and South Korea. Southeast Asian nations have its ASEAN Plus Three and ASEAN-US forums. More countries are approaching ASEAN for negotiations. The grouping will include two more member states namely East Timor and Papua New Guinea. These are enhancing the potential of ASEAN. Thailand must prepare itself for increasing capital inflows in the future.
Translated from Matichon newspaper July 3, 2012
Photo source: the National Health Commission Office