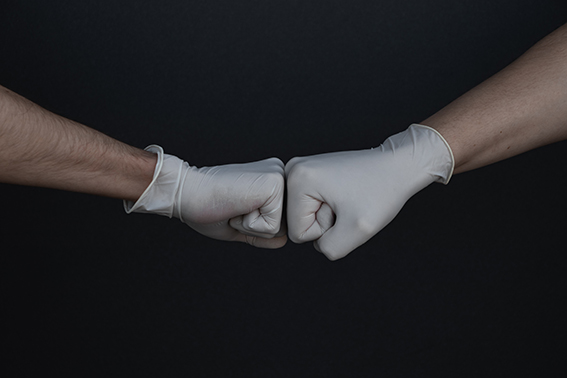 NHCO's Roles in Response to COVID-19
Coordination, Connectivity, Synergy  With All Sectors and All Stakeholders

Photo cover by Branimir Balogović on Unsplash




                     Amid the COVID-19 pandemic, the National Health Commission Office (NHCO) has convened several meetings to discuss measures with health and non-health organizations with an objective to help the government cope with the pandemic. 12 organizations, namely the Ministry of Public Health, the National Health Security Office (NHSO), the Thai Health Promotion Foundation (ThaiHealth), the Health Systems Research Institute (HSRI), the Healthcare Accreditation Institute (Public Organization) (HA), the National Institute for Emergency Medicine (NIEMS) and the Mohanamai or Public Health Worker Network Foundation, the Department of Local Administration and the Department of Provincial Administration under the Ministry of Interior,  the Community Organization Development Institute (CODI) and Thai Public Broadcasting Service (Thai PBS), have joined hands to integrate efforts in support of the project entitled "synergy of active citizens to support country against COVID-19".
                     The project is aimed at 1) encouraging organizations, nodes, and networks to collectively cope with the COVID-19 crisis by pooling resources, sharing information and streamlining missions 2) creating social measures, agreements or health charters at various levels (especially at the sub-district level) to empower local people to handle their pandemic situation. This aims to transform citizens to be literate in health and active in contributing to society and support government measures.
NHCO has made progress in the fight against Covid-19 in the 5 following area
1. Coordinating policies of national organizations :
                   The National Health Commission which is chaired by Prime Minister resolved that organizations would implement and support the project on the "synergy of active citizens to support country against COVID-19". The commission has representatives of health and non-health governmental, private, and civil organizations as its members.
                   NHCO advocated the Ministry of Interior to order local administrative organizations under its supervision to support the participation of sub-districts, communities, and villages in formulating agreements or charters to cope with COVID-19 in order to work out the social measures that are acceptable to people.
                   NHCO advocated the Ministry of Public Health and the Office of the Permanent Secretary for Health to assign the District Quality of Life Boards, to which district health chiefs are the secretary, to urgently implement the project and to order all health promotion hospitals at the sub-district level to facilitate the formulation of the anti-COVID-19 agreements or charters and invite village health volunteers to take part in the formulation in respective sub-districts, communities and villages.
                 NHCO advocated the National Health Security Office (NHSO) to approve the spending of the local health funds of sub-districts to support participation in the making of anti-COVID-19 agreements or charters and to implement measures which are developed by civil societies at local levels.
                 NHCO together with the Community Organization Development Institute (CODI) encouraged community organization councils and community welfare board members at the provincial level to seek funding from local health funds to implement anti-COVID-19 agreements or charters.
                NHCO advocated the Sangha Supreme Council to assign monks to join the project.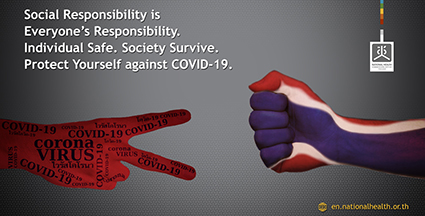 2. Supporting work at local levels : 
Short-term measures to encourage communities to develop agreements or health charters;   
                 NHCO advocated the Regional Health Committee members in each province and the provincial health assemblies, which their roles are the coordinator of all parties at the provincial level, to adjust their work and budgets to cope with the COVID-19 crisis. Initially five provinces namely Lamphun, Songkhla, Ubon Ratchathani, Udon Thani and Nakhon Nayok adjusted their budget to fund their efforts to control COVID-19.
                 NHCO drew up guidelines for brainstorming on the formulation of health charters or agreements at the levels of sub-districts, districts and provinces and had shared the guidelines with organizations and networks for implementation.
                 NHCO asked relevant organizations and networks including the Mohanamai or Public Health Worker Network Foundation to assign trainers to produce local trainers who will then guide the formulation of agreements or health charters and the creation of mechanisms to follow up relevant activities at district and sub-district levels.
Long-term measures to rehabilitate communities;
                 To convince local administrative organisations to implement the health charters so that civil society's measures will be applied continuously and seriously.
                 To plan with the strategic partners that have joined hands in this project to work on post-COVID economic and social rehabilitation for communities.
3. Mass communications
                 NHCO has convened meetings with the communication departments of 12 organisations to discuss collaboration.
                 NHCO has produced media including video clips, radio spots, info-graphics and posters to present government measures, the ideas of executives of governmental and non-governmental organisations and community leaders, and the stories of some communities that have introduced their social measures to cope with COVID-19 through various channels such as websites, Facebook Live, online health stations and mainstream radio stations.
                 NHCO has established a central database to gather knowledge, articles, PowerPoint presentations, video clips and live presentation recordings in the electronic form for future dissemination.
                 NHCO together with Thai PBS have applied the C-site website to present the areas of COVID-19 responses. Communities can pin their areas where have the activities been implementing on a map of this website.

4. Academic work and knowledge development
                 NHCO has studied, followed up, and analyzed measures of the Centre for COVID-19 Situation Administration (CCSA) and supportive measures of other governmental organizations.
                 NHCO has monitored the strengths of communities and presented them in a pamphlet entitled "Stories of Community Power to Fight against COVID-19" to show how communities have implemented their health agreements or charters to control the COVID-19 pandemic.
                 NHCO has worked out a plan to transform lessons from the project into a set of knowledge as a "model development of participatory crisis management" and provide proposals into 2 aspects that are on crisis management measures and participation of stakeholders in surveillance and prevention of other disasters and emergencies.
                 NHCO has had a plan to produce a "Chronicle of the COVID-19 Response of Thailand: Synergy of Active Citizens" to document the experiences of the collaboration of all organizations at national and subnational levels in solving the problem.
5. Central management
                 NHCO has set up an anti-COVID-19 coordination center to coordinate work with 12 strategic partners.