The new law banning chrysotile asbestos has caused a stir in the Thai roof tile industry with varied responses from tile makers.  Ha Huang brand invests 100 million bath in green innovation producing 100% asbestos-free tiles while maintaining the existing price in the hope to stay no. 1 in the market share. Diamond brand throws in  50 million bath. SCG brand holds a safe lead while Oranit brand continues to oppose the cabinet resolution.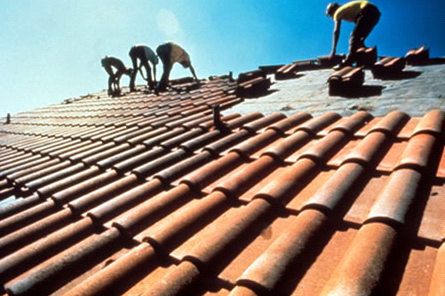 Roof tile manufactures have hurriedly adjusted their production to suit global warning concerns and the cabinet resolution dated 12 April 2011 on prohibiting import of asbestos and products containing forms of asbestos or substitutions. The cabinet resolution was developed based on the National Health Assembly (NHA) resolution on asbestos in 2010.
Mr. Somkiat Wongcharoensin, President of the Thai Olympic Fibre-Cement Co.,Ltd., manufacturer, and retailer of Ha Huang brand  has revealed that the company is confident about entering into the new non-toxic market. For over two years, it has invested more than 100 million bath in remodeling the entire production process to manufacture 100% asbestos-free green products. The prices have remained unchanged despite the increased production costs.
"We want to protect consumer's health, and also hope to get an exporting visa to markets abroad".
He has added that in the meantime, the company hopes the government seriously educates consumers on hazardous asbestos, as with earlier campaigns against alcohol and cigarette consumption. The company has hurriedly set up seminars to educate 4,000 dealers across the nation so that sellers and buyers will share similar perspectives, especially on the strength of asbestos-free roof materials.
Mr. Somkiat has accepted that the competition in the roof tile market is very high amongst four major manufacturers including Ha Huang, Diamond, SCG and Oran with a market value of 10,000 million bath. At present, Ha Huang holds the biggest share of 38% and expects to earn 4,200 m