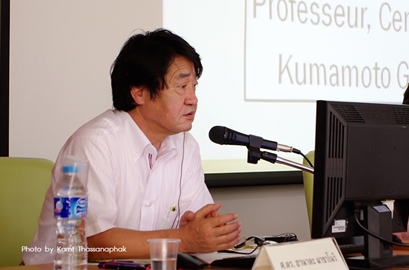 On March 1, 2013, Open Research Center for Minamata Studies of Kumamoto Gakuen University of Japan together with the Health Impact Assessment Co-ordinating Unit of the National Health Commission Office, Center for Peace and Conflict Studies of Chulalongkorn University, Environmental Litigation and Advocacy for the Wants (EnLaw) and Ecological Alert and Recovery – Thailand (EARTH) organized an International Conference on Risk Communication and the Possibility Towards Constructive Solutions for A Healthy Future of Map Ta Phut at the Faculty of Arts, Chulalongkorn University.
Prof. Dr. Hanada Masanori, director of the Open Research Center for Minamata Studies
Map Ta Phut and nearby areas including Huay Pong, Noen Phra, Thap Ma, Map Kha and Ban Chang areas in Rayong province form the largest industrial zone of Thailand. At the same time, wide spread toxic contamination has forced locals to leave the areas. A group of people has urged the government and the private sector to solve the problem which have been responded by installing systems to monitor air and water pollution and coastal erosion, etc.. However, industrial investment still keeps expanding their business, especially chemical, petrochemical industries and coal-fired power plants.
Ms. Penchom Sae-Tang, director of the Ecological Alert and Recovery – Thailand quoted the National Economic and Social Development Board as pointing out that unless the negative impacts of industrial development in Map Ta Phut area are solved, they will affect the overall economy of the nation; and that solutions to problems in Map Ta Phut will set examples for other areas affected by industrial development. If this fails, people will lose confidence and there will be obstacles to development of new major industrial zones in the country.
Therefore, there must be serious studies on relocation of communities. Eventhough pollution emissions from each source may not exceed standards, combined pollution from all factories in the area exceed safe levels. Reduction or eradication of pollution may be costly while community relocation may carry a lower cost. It may be implemented as