A report by WHO written in collaboration with the National Health Commission Office and Faculty of Public Health, Thammasat University highlights the role played by different stakeholders in Bangkok such as local government, community leaders and citizens to fight COVID-19 and promoting health equity.
         Through selected case studies from four districts in Bangkok – Bang Bon, Don Mueang, Thon Buri and Wang Thong Lang – the report also talks about the social innovations or collective community efforts that emerged during the COVID-19 response and preparedness and recovery phases.
         The communities in the Bang Bon, Don Mueang, Thon Buri and Wang Thong Lang districts were selected in consultation with the National Health Commission Office, which worked with the Bangkok Metropolitan Administration [BMA] and communities during the COVID-19 pandemic.
         Through focus group meetings, in-depth interviews and document reviews, the study reviewed community engagement and public participation during the pandemic, such as central and local government announcements, orders and regulations; community stories and reports. The information was then analyzed to provide lessons learnt and recommendations on an effective response to COVID-19 while promoting equity. The examples of social innovations will now be duplicated in other settings, wherever appropriate.
Social Innovations in response to COVID-19
         While the government at the national and local level introduced several measures to fight COVID-19 transmission, the impact of the pandemic has gone beyond health. Vulnerable populations such as the elderly, the chronically ill and people living with disabilities have been particularly affected due to the disruptions caused by COVID-19.
         Communities in the four identified districts, which were all in different settings, were studied to identify social innovations that had been initiated by them in partnership with other sectors.
         These are some of the social innovations from the four districts that were highlighted in the report:
Wang Thong Lang District:
         With relief measures and donations pouring in from authorities and the private sector, fair and equitable distribution of these donations and assistance proved to be a challenge. However, Wang Thong Lang District had a solution – a community database put together by people in the community that was created 13 years ago, was used to identify vulnerable people in the communities. During the pandemic, the community committees added five more groups of 'vulnerable people' – the elderly, chronically ill and immobile patients, people living with disabilities, single mothers and children.
         This additional database was used to prioritise assistance to those that needed it the most, and was also shared with government agencies such as the Ministry of Social Development and Human Security as well as private sector donors to help these groups receive further assistance.
Bang Bon District:
         Different population groups access assistance and services differently during a crisis. The BMA prioritises services for registered communities first before the non-registered communities and migrant populations. The Bang Bon district is an example of how an industrial area reached out to vulnerable and marginalized populations such as migrant populations and non-registered communities.
         During the pandemic, the community committee set up a community kitchen where every day, for 4 months, the kitchen cooked 500 boxes of food that was distributed free of cost to neighbouring communities. This was made possible through the support and donations from government agencies and the private sector. Additionally, a temple in Bang Bon that had started organic farming just prior to the COVID-19 outbreak, regularly provided vegetables to the community kitchen.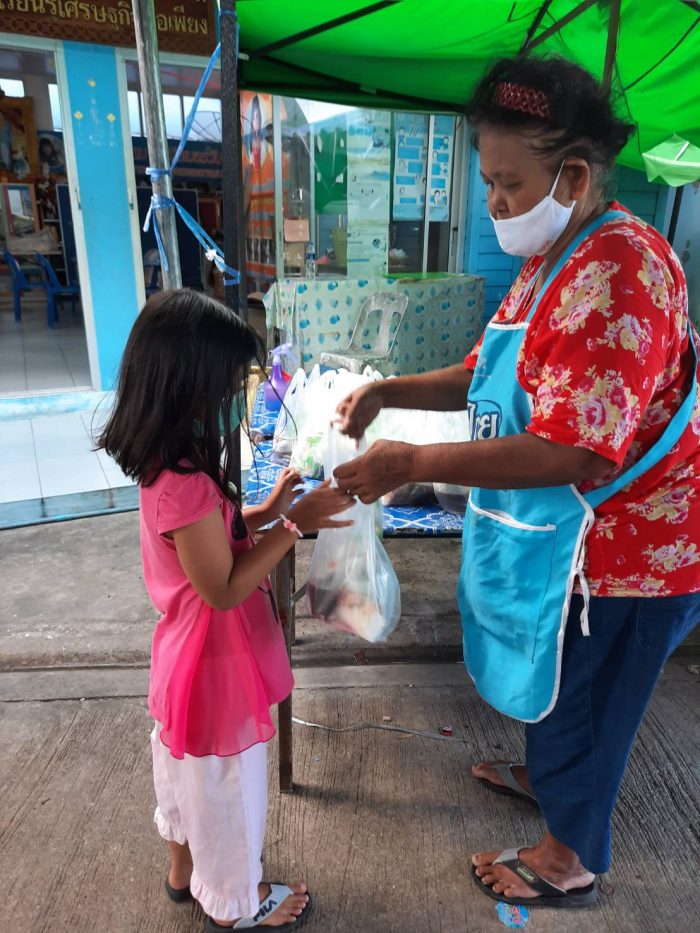 The committees running these kitchens also decided to do away with identity cards that would have to be presented to receive the food, as this would have been challenging for migrant workers. Instead, a representative from registered and unregistered communities would place requests for food boxes needed. Thus, everybody in the community was served during these difficult times.
Don Mueang District:
         One section of the district decided to set up a local online market, given the difficulties the community was facing due to restrictions brought about by the lockdown. The committees brainstormed on how to keep citizens at home without having to worry about earning a livelihood. The local online market benefitted three groups of people. The first, motorcycle taxi drivers, to help them earn a living. The second group, those who had lost their jobs or had their jobs suspended. The final goal was to help all community members to stay at home – the third group that benefited from this.
         The idea behind the local online market was simple: turning what people have at home into money, for example, turning a home kitchen into a food delivery service. This was done by using the services of motorcycle taxi drivers in the communities rather than using larger taxi services. This market was not limited to food. It included any services that community members could provide, for example, air-conditioning cleaning, pet grooming, etc. 
Thon Buri District:
         Communities in the Thon Buri district successfully used the concept of urban planning to look after each other. During the COVID-19 outbreak, many communities in Bangkok had started planting vegetables in pots or un-used public areas such as areas along canals or footpaths for cooking. The idea of urban farming came from some of the committee members in three communities in this district who had been trained on organic farming at a local university and had small organic vegetable plots. When the pandemic hit Bangkok, vegetables from these small plots were distributed to the larger community free of cost. This initiative was then duplicated across other communities.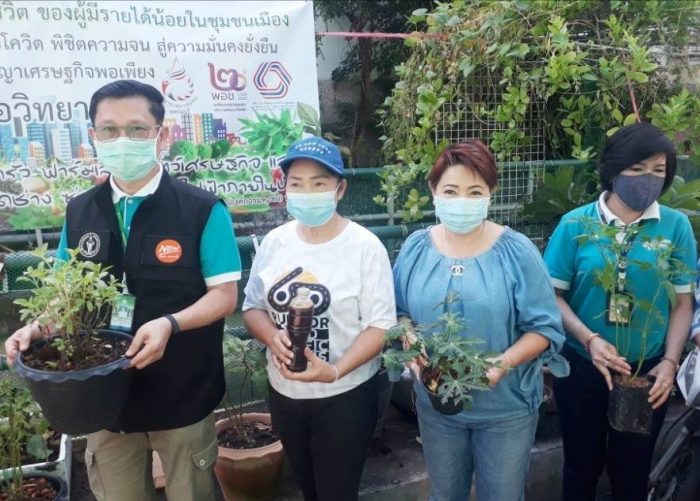 Apart from planting vegetables and herbs, community members also developed a frog farm and a catfish farm. This vegetable garden project developed into urban farming. They further decided to add food processing and conduct marketing to reach more customers outside the immediate communities. The BMA planned to help the communities by providing occupational training. As a result, what started as a food security programme for communities during the public health emergency is providing income to the same communities.
         The COVID-19 pandemic left people vulnerable. However, participatory processes to respond to the crisis has created opportunities for people to solve problems brought about due to the pandemic and also contributed to increasing self-esteem, reducing dependency, increasing self-reliance, and developing community skills to face future challenges.
         The report also found that citizens readily volunteered for activities that benefited the entire community. The selected case studies also highlighted that citizen participation contributed to the management of the COVID-19 crisis.
         Based on findings of this report, recommendations will now be made to communities and local government bodies for facing future challenges.
Source: WHO SEARO Website