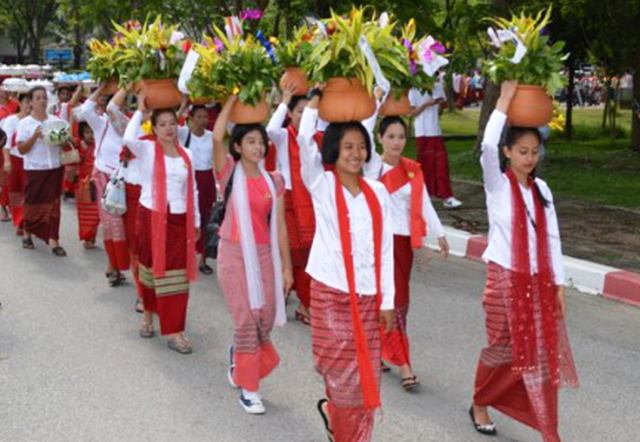 The Songkarn festival and Health Charter for Mon people to conserve their wisdom and values
Source: Khaosod
Credit Photo https://www.thairnews.com
The Phutthamonthon Buddhist Park in Nakhon Pathom province is a venue where Thai people of Mon origin gather to celebrate their Songkran festival or water festival. The people wear colorful clothes and join cultural processions. They carry flowers and Khao Chae or rice soaked in cool water, show birds and fish, and demonstrate traditional games. This year there were a religious ceremony by Buddhist monks of Mon origin, a ceremony to declare the health charter for Mon people, and a ceremony to serve Khao Chae to Buddhist monks.
These ceremonies are rarely seen and reflect lifestyles, faith and beliefs. The recent Songkran festival of people of Mon origin was the second of its kind at the Phutthamonthon Buddhist Park. The Raman Rak (Mon conservation) Foundation and Thai people of Mon origin organized it to conserve the Mon-styled celebrations of the Songkran festival. Kitsayapong Siri, permanent secretary of ministry of culture of Thailand, launched the festival. Thanpuying Putrie Viravaidya presented awards to outstanding people of Mon origin. Dr.Poldej Pinprateep, secretary-general of the National Health Commission of Thailand, delivered his speech on the health charter of Mon people and well-being. A large number of heads of government agencies and Thai people of Mon origin attended the launch ceremony.
On the occasion, children and teenagers demonstrated Mon cultures and games. Their shows included Mon performance arts such as Mon classical dances as well as traditional games. Participants also bathed Buddha images and extended their Buddhist New Year wishes to older persons. The health charter for Mon people was introduced in the Mon Songkran festival.
Phra Panyawuthi Wuthiko, chairman of the Raman Rak Foundation, said that the health charter for Mon people 2018 was formulated because Mon people were losing their belief in their families' spirits and paying attention to social trends. Consequently attachment was declining among Mon family members and local residents. Young people were not interested in traditions, cultures and local wisdom that deserved conservation.
The Raman Rak Foundation initiated a project to organize discussions on the values of Mon communities and Mon spirits to encourage people of Mon origin nationwide to pay attention to and conserve the wisdom and values of their communities. The project begins with attempts to find the Mon people who do cultural and artistic work and conduct ethnic researches. These people are invited to form a Mon ethnic assembly and the health charter for Mon people is used to support their collaboration.
The National Health Act 2007 defines health is wellbeing covering physical, mental, spiritual and
social aspects.  The health charter for Mon people deals with the spiritual well-being and will inspire Mon people and their communities to conserve their cultural heritage and local wisdom. The charter also sets goals and strategies to create love and happiness in communities and unity among Mon people at family and national levels. People of Mon origin in the nine provinces of Kanchanaburi, Nakhon Pathom, Pathum Thani, Phetchaburi, Ratchaburi, Lop Buri, Lamphun, Samut Sakhon and Bangkok must adhere to the health charter for Mon people and introduce it to people of Mon origin elsewhere.