National Health Commission Office (NHCO) together with National Health Security Office (NHSO)and Prince of Songkla University held an academic forum on southern area based health assembly titled "A Decade of Knowledge Development of Health Assembly" " during 11-13 October, 2010, at Chalermprakiat International Convention Centre. This forum also aimed to receive public opinions  to "the Draft Resolutions of the 3rd National Health Assembly Resolution".  The forum was chaired by Mr. Somporn Chaibangyang, former director-general of Department of Local Administration and chairperson of southern area based health assembly, with 300 representatives from health assembly networks in 14 southern provinces.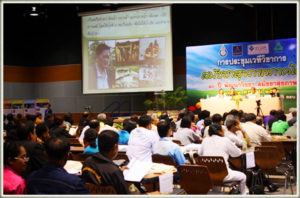 In the opening ceremony, Mr.Chaibangyang stated that this forum would allow grassroot people to participate in sharing different opinions. This mode of thinking and process is critical in reflecting actual needs and will contribute to development of the country. We need to accept that in the south, the civil society has considerable level of eagerness and participation in mobilising the southern area based health assembly as well as other social issues. Such mobilisation will set good examples and be inspiring motivation for the wider society. And this is considered one among other important aspects of democracy regime.
Dr.Amphpon Jindawatthana, Secretary General of National Health Commission, gave a speech on "Health Assembly and Development of Public Policies in the South" stating that people in the south will act as a change agent of the society. Health assembly is a part of mobilisation which has been working for more than 10 years. It allows people to unite and brainstorm for the benefits of public interests. So far, the southern region has had holistic issues, for instance culture, regional development plans, etc., proposed to the National Health Assembly. What has been done is considered a learning reform in many aspects- politics, education and quality of life- which are pushed forward by the civil society under participatory democratic system.
Development of health public policy process by health assembly must be initiated from people's wills and needs which will lead to participatory policies in the civil society. Meanwhile, the state will issue policies assisting and supporting such participatory policies.
Dr. Jindawatthana added that the reform of Thailand is therefore not a new concept anymore. Health assembly is used as a national tool to links together all sectors. Concerning the south, its resolution is to urge the state to review southern regional development plan to be more natural and environmental friendly. The government agreed to the resolution on the previous year and this year's resolution will be presented for the cabinet's consideration and further implementation. In the future, when cabinet resolution comes out, people must follow it up and practise accordingly, with local governmental organizations working incoordination with the civil society.
Root causes of crisis in Thailand, according to Dr.Jindawatthana, include ignorance; vertical society; modes of thinking and conscience; lack of common goals; centralisation of power; lack ok justice in administration and resources  allocation; inequality of access to justice system; education system that weakens the whole nation; communication system that is not yet truly national power; unjust capitalism; and lack of quality in bureaucratic and political system.
"So far, the more developed Thailand is, the more deteriorating it has become. It malfunctions because systems and directions do not work in coherence. So it is proposed to create strength in grassroot level. Local governmental organizations and civil society can handle local problems by themselves. Each of us needs to support one another. Today, communities and local regions can reform the country in regional level, starting from managing knowledge which is previously scattered and then building up public policies, by social communication, and pushing forward the practice. I believe that policies that are centrally decided will be soon replaced with ones proposed by the civil society",added Dr.Jindawatthana.
Case studies on development of public policies through health assembly procedures in 14 southern provinces were also presented. Satun, Yala, Trang, Krabi and Phuket brought up integration of development of children, youth and family, as well as solutions of overweight-obesity problems. Ranong, Suratthani, Pang-Nga and Pattalung proposed the conservation of plants, fish and watershed areas. For Songkla, Chumporn, Pattani, Nakornsrithammarath and Narathiwas, they presented case studies on locality and management of health, insurance fund, community wellbeing volunteers and solutions of conflict on land ownership in  Budo Su Ngai Padee National Park. Finally, ratification ceremony on MOU on "11 Strategic Partners toward the Sufficient Songkla"was done on 13 October 2010.
Source:  
Thai Post posted 5 October, 2010