Closing the curtain of the 2nd Decade of Thailand's Health Security System Conference, held from 21-22March, 2012 in Bangkok.
Director of Health Systems Research Institute (HSRI), Dr. Pongpisut Jongudomsuk has given summary of opinion hearing from 536 healthcare staffs which constituted 36.9% of over 1,000 participants. The numbers included sub-district hospitals and healthcare centers 14.6%; community hospitals 12.2%; district and provincial public healthcare offices 12.2%; local administrative offices 12.2%; civil society network 12.4%; regional and general hospitals 10.9%; scholars 6.5%; National Health System Office (NHSO) at national and regional levels  9.4%; and private hospitals and other hospitals where are not under the Ministry of Public Health supervision 2.4%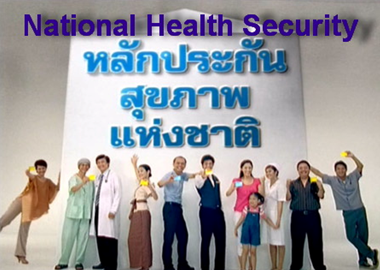 In conclusion, participants identified aspects that need improvement as respectively followed:
4.26% quantity and quality of health professional;
4.15% coverage of benefits from needed services;
4.15% sufficient budgets;
4.06% convenience of services;
4.06% medical equipment and devices;
4.04% quality of medication;
4.04% quality of overall services.
Additionally, significant state policies to be emphasized were surveyed with the following statistics:
4.37% health promotion in all age groups;
4.33% improvement on convenience of services;
4.30% improvement of care system for patients with chronic diseases;
4.26% availability of good-quality medication and appropriate usage;
4.19% decrease of inequity among the 3 health security funds, etc.
Ten concerned issues were listed as follows.
1. Mergence of health security funds is discouraged but decrease of their inequity is agreeable.
2. Ministry of Public Health (MOPH) and NHSO have different approaches on improvement of basic services which leads to confusion of practitioners.
3. Submission of documents for budget allocation is time-consuming. Hence, staffs have less time to provide self-care information to patients.
4. Difference in divisions of working regions by MOPH and NHSO hinders coordination in work.
5. Disbursement of sub-district funds should not be limited to only Sub-district Administrative Office or Sub-district hospitals.
6. "Cost sharing" principle has various purposes. The reuse of cost sharing principle therefore should be transparent and not hastened.
7. Health problems and health care system for migrant workers should be taken into consideration as this can affect the health of Thai population.
8. Budgets on promotion and prevention are limited when compared to budgets on treatment. That renders limitations in improving the work of health promotion and prevention.
9. Roles of provinces and districts are not clear, especially if decentralization is implemented in the future.
10.  Not only on access to services but more emphasis should be placed on quality of services.
Ten areas for improvement consist of the following
1. There should be cooperation in work among all health organizations.
2. Regarding health promotion, staffs should reach out to public, not vice versa.
3. Correction and adjustment of regulations should be done so that health security funds in the sub-district level are more flexible to manage.
4. Investment in personnel development is needed as it can affect provision of services to public.
5. Decentralization of power and expansion of public participation should be enhanced.
6. Development in health should be embraced social determinants of health.
7. Incentives and motivation should be given those who have healthy behaviours and reduce health risks.
8. More benefits should be added into occupational health services.
9. Constructions of new hospitals in urban settings should be slow down as this focuses too much on treatment.
10. Employers should share responsibility for healthcare expenses of their migrant employees.
Source: Matichon, March 24th 2012 
Photo Source: Website of Rural Doctor, Thailand