The Thai Health Promotion Foundation (ThaiHealth) organized the 21st IUHPE World Conference on Health Promotion 2013 at the Pattaya Exhibition and Convention Hall in Chon Buri province from Aug 25 to 29.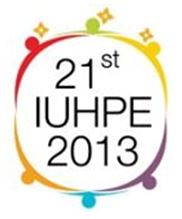 Dr Michael Sparks, president of the International Union for Health Promotion and Education (IUHPE), said the international conference on health promotion took place in a developing country in Asia for the first time. IUHPE has been established for 62 years and member countries take turns to host the conference at every three years. Thailand is a key member of IUHPE and is among the countries that play important roles in health promotion. International health promotion experts attended the conference and included Pakistani Health Minister Dr Sania Nishtar, Daniel Weinstock of the Research Centre on Ethics at the University of Montreal in Canada and Anne Mills, a professor of health economics and policy from Britain.
Prof Dr Udomsilp Srisaengnam, the chair of the organizing committee of the World Conference on Health Promotion, said ThaiHealth and Pattaya City were the main hosts of the meeting and there were four co-hosts namely the Ministry of Public Health, the Health Systems Research Institute, the National Health Commission Office and the National Health Security Office. The conference was organized on the theme of the best investments for health. More than 2,000 people from over 80 countries attended it and exchanged knowledge to pave the way for worldwide health promotion.
Prof Dr Udomsilp said the five-day-long conference consisted of academic and recreational activities and the presentations of knowledge about health developed in Thailand and other countries. There were nine academic topics and over 2,000 abstracts were proposed for selection in the conference. There were also inspection trips to the health promotion project sites of ThaiHealth and partners along eight routes in nearby provinces. There was also a Thai cultural conservation night event to publicize knowledge and innovations on health promotion by partners in Thailand.
Pattaya mayor Itthipol Khunploem said Pattaya City was pleased and honored to welcome participants in the conference and health promotion was a mission of the Pattaya City administration to make the city a desirable place to live in the eyes of the international community apart from the promotion of its world-renowned tourist attractions. He said the city administration was promoting environmental conservation and encouraging people to participate in relevant activities.