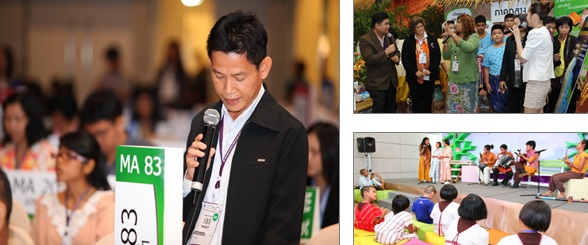 The 5th National Health Assembly on the theme of "Health in All Policies" held from December 18-20 2012 at the BITEC Bangna was successfully finished.Dr. Sirina Pavarolarvidya, Chairperson of the National Health Assembly Organizing Committee stated that the conference drew more network partners and interested parties than ever. With 2,551 participants and 9 resolutions were adopted. The implementation of the policies will be followed-up further.
Dr. Chaiyos Bunyakij, Chairperson of the Meeting Committee 1, and Supakit Sirilak, Chairperson of the Meeting Committee 2, gave information on the agendas adopted by the networks as followed:
1) Reforms of EIA and EHIA: Without regulation update, conflicts between the state or entrepreneurs and communities will increase, resulting in economic loss. The network, then, proposed the revision of laws such as the National Act for the Promotion and Conservation of Environmental Quality B.E. 2535 (A.C. 1992) in order to reform the structure and system of environmental and health analyses. Conducts of EIA and EHIA should promote the increase of NGOs working on environmental and health-concerning issues, as stated in the Article 67 of the Thai Constitution.
2) Prevention and reduction of health impacts from biomass power plants will be proposed to the cabinet for consideration and approval. This can be done by having relevant agencies study the overall potentials of the provinces in handling the development of biomass power plants in order to determine frameworks and project approval in the area. Standards on the use of city planning should be improved, as well as the List of factory types and classifications, especially factories producing, transmitting, or distributing electrical power. The Office of the Energy Regulatory Commission will be the main actor in revising criteria for issuing licenses. Appropriate proximity to community should be determined and civil and criminal penalties should be increased against disqualified companies. Community Health Impact Assessment (CHIA) will be encouraged.
3) Solutions to the smoke hazes that affect health. Civil society and community organizations are supported in fighting with the smoke haze problems. Awareness raising, knowledge and learning centers will be conducted and built and Local Administrative Organizations will be encouraged to create local legislation concerning forest fire and smoke hazes.
4) Food safety and solutions to chemical pesticides: government agencies are to encourage Good Agricultural Practices (GAP) and organic farming as significant tools in food production. Registration of chemical pesticides used in agricultural production should be revised and registration process for dangerous chemical substances should also be improved.
5) Provision of system and structure to promote walking and cycling in daily life: The assembly approved the drafting of strategies within the year 2014 so as to propose to state agencies. The core body will be the Thai Health Promotion Foundation. The Ministry of Finance will be proposed to set up measurement to support and promote the use of bicycle in daily life while the Ministry of Industry will improve standards of bicycles.
6) 24-hour management of environment surrounding youth: the National Health Assembly constituencies are concerned about youth and the overuse of IT which causes health and developmental problems. Today, VDO games and internet addiction is a critical problem. The work of the National Committee on Safe and Creative Media Development, therefore, should be supported in order to get rid of media with negative influences, promote the good ones and build up immunity against the addiction. Appropriate technologies should be used to monitor youth's use of IT and the Royal Thai Police will control online games and internet cafes.
7) Monks and well-beings: the illness found among monks is mostly from consumption behaviors that affect their health. They should be encouraged to be more careful with diets. The National Health Security Office will improve the service principles in public healthcare centers in order to make it more accessible for monks. Database system should also be set up across the country for the benefits of their rights and welfare.
8) Transforming health professional education in response to the current situation of Thai contexts: relevant departments will develop curriculums or adjust the system. Teaching and learning has to relate to dynamics of healthcare systems. Strategies on health workforce production and education reforms will be done within a year, with the focus on awareness raising of public mind and respect of human integrity.
9) Development of mechanism and process to deal with health impacts resulting from the ASIAN Community especially food and agricultural food products: Quality control for food and agricultural food products should be more recognized as the trading will increase due to the ASEAN Free Trade Agreement. Explicit policies and plans should be ready whereas the state should invest in experts, laboratories and tools in checking food safety and disease control.
Dr .Amphon Jindawatthana, Secretary General of the National Health Commission, Thailand, stated that among 9 resolutions, 3 of them including the prevention and reduction of health impacts from biomass power plants; the solutions to the smoke hazes; and the promotion of walking and cycling in daily life will be proposed to the Cabinet while the other six will be presented to relevant departments for further implementation.
"This National Health Assembly is very successful. Still, development on well-being needs to be pushed forward and create more linkage with the society. Moral supports are constantly given to communities or provinces which successfully practise the tools. 3 awards are granted and network from WHO came to observe the Assembly process. This is the first year the National Health Assembly Award is granted with the criteria: "one province" practicing health assembly process; "one area" doing health statute and "one case" using Community Health Impact Assessment as a participatory tool in development of public policies concerning health, under the National Health Act B.E. 2550.
Those who are awarded including Trang Health Assembly, Chalae Sub-district Health Statute and Community Health Impact Assessment on coal power plants in Khao Hinsorn, chachoengsao Province.
Source: The Nation Weekend, 4th January 2013
Photo source: National Health Commission Office