According to the National Health Act, the National Health Assembly (NHA) is determined to convene at least once a year.
Normally it is in the second week of December. Thailand was severely hit by flood last year. This causes the postponement of NHA2011 to February 2012.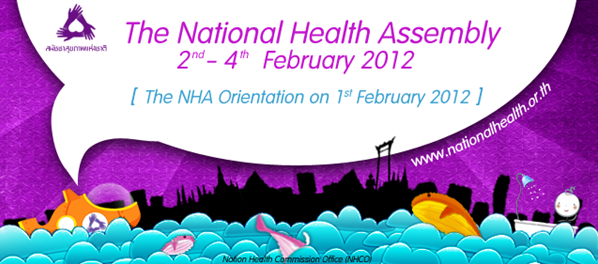 The theme of the NHA2011 on "Coping with Disaster… Managing Ill-Being" is associated with the current situation in Thailand and elsewhere in the world. This year 6 agenda items will be discussed as follows.
Disaster management
Tackling the problems of suicide
Sustainable Watershed management
Management of illegal advertisement on medicine and health products
Food safety: the reuse of cooking oil
Occupational health and safety of labour
Besides the meeting at the NHA, we also have 2 side meetings.
1. Mainstream SDH across Health Sector
Date: Wednesday 1st February 2012
Time: 09.00 – 12.00 hrs
Venue: Rachadamnern Meeting Room, Royal Princess Larn Luang
Speakers: Dr. Suvajee Good of WHO SEARO, Prof. Sharon Friel of AP-HealthGAEN, Australia National University and Dr. Phusit Prakongsai of International Health Policy Program, Ministry of Public Health of Thailand
Chair: Dr. Narongsakdi Aungkasuvapala of National Health Commission
2. How to hold partners accountable in univer