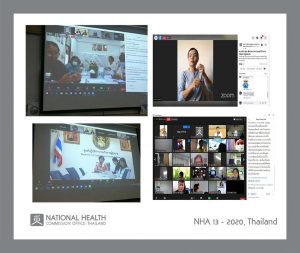 The 13th National Health Assembly of Thailand (NHA 13), 16-17 December 2020
And NHA Week from 2-14 December 2020
In this year, the NHA Organizing Committee of Thailand has decided to convene the 13th National Health Assembly (NHA 13) from 16th– 17th December 2020 at Government Complex, Bangkok, Thailand and NHA week from 2nd-14th December 2020 in Bangkok, Thailand which is under the theme Active Citizens' Power Against Health Crises.
NHA 13 and NHA Week is a hybrid conference consist of online and onsite participation with an aim to reduce the size of the gathering and the number of travels of NHA members but enable online space for them and general population.
About the NHA week, it will be an open space for learning about the participatory public policy from various issues such as children and media literacy, public space for all. The design of side events covers issues that correspond with the main theme of NHA.
The NHA Organizing Committee had a resolution to announce the 2 agenda items of NHA 13 as follows.
food security in time of crisis and

participatory health crisis management in case of pandemics
 After adoption at National Health Assembly, all resolutions will be submitted to the National Health Commission which is chaired by the Prime Ministry. The Commission will consider taking appropriate actions to achieve the resolutions, including, if necessary, submitting to the Cabinet.
For more information about NHA 13 click