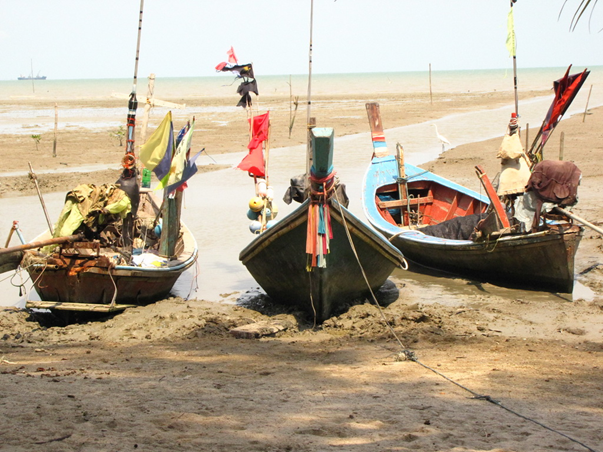 This community chooses to fight against transnational petroleum industry and coal-fired power plants with wisdom and use community health impact assessment as its tool.
In a meeting of partners for the empowerment of Tha Sala community, Prof Dr Prawase Wasi, chairman of the National Reform Assembly Committee, said the issue of Tha Sala district in Nakhon Si Thammarat province is important and good. When a community is strong, everything will automatically be better. In fact, community leaders do not oppose industries but they want to discuss impacts on the community in order to create positive relations and the mutual benefits of the macro-economy and the economy of the community. This will bring about empowerment and good results.
"There must be solutions to prevent industrial impacts on communities, avert fights and promote mutual interest. Organizations and students can lend a helping hand to support the empowerment, develop the environment and natural resources and create fair and sustainable exploitation. This can happen if local people take actions and academics are supporters. We have so many universities in places. They can be used to make the movement at the national level."
Dr Prawase stressed that the conservation of the environment and natural resources and fair and sustainable management are very important. Local people must be implementers. There must be no use of force, but coordination, connection, studies and the realization of human dignity and values. Then there will be freedom, ability to do good things and sustainable power. It is the awareness of citizen's power, public mind and social responsibility. These should be publicized through movies so that people of all classes learn and understand and there is people's power to reform Thailand.
Community health impact assessment practitioner Prasitchai Nunual said the empowerment will lead to a process to develop communities and wisdom from community-based information. He recommended that information from the community health impact assessment (CHIA) of the community at the Tha Sala bay should result in proper development. Everyone wants to protect the sea and homeland from the threats of a transnational petroleum industry and coal-fired power plants.
"We fight in self-defence against the project to build a port and a supportive facility for the petroleum exploration and production of Chevron Thailand Exploration and Production Co in Tha Sala district." The community exercises its rights under the constitution and the National Health Act to protect its well-being. The heart of health impact assessment is not to fight against any opponent but to create wisdom, solve conflicts in communities and at least avoid the use of force that does no good. This community chooses to fight with wisdom and use community health impact assessment as its tool. This does not exist in any legal process but it is the power of the society. It builds a process to shape its own future, define itself as a food producer and determine that this area is protected as a source of foods for the international community.
Source : Banmuang newspaper's February 27, 2013 edition
Photo Source : Ms. Nipaporn Laokul