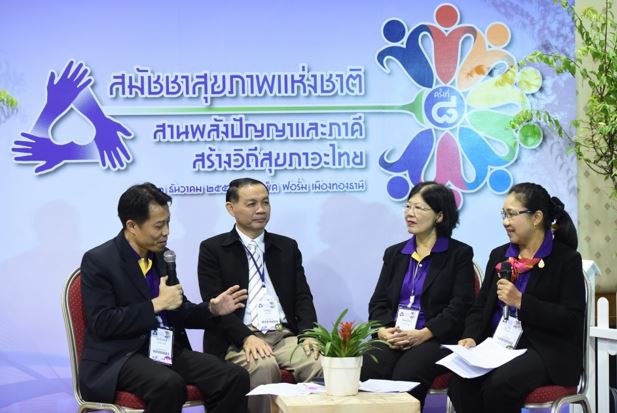 Jetsada Mingsamorn, chairman of the committee organizing the 8th National Health Assembly in 2015 that focused on wisdom and partnership to create Thai well-being, said that 2,618 people from 280 organizations attended the assembly and participants came from more than 50 new organizations and networks. Five issues were on the agenda: antimicrobial resistance and the integrated problem solving; wellbeing of rice farmers  : the empowerment of rice farmers' networks; urban health : the participatory development of health care systems in urban areas; policies to reduce the consumption of salt and sodium to cut non-communicable diseases; and the revision of resolutions to smoke haze that affect the health of the population.
The health assembly focused on progress in the implementation of 64 resolutions in the past seven years. The government and relevant organizations turned many resolutions into policies. Partners had opportunities to fully express opinions and the five new resolutions will be proposed to the cabinet.
Chaiyod Boonyakij, head of the 1st subcommittee, said the problem of antimicrobial resistance was growing, so the assembly resolved to present it as one of national agendas to integrate solution attempts at the provincial and national levels. Members of provincial health assemblies are quite alert and likely to work actively on the matter. The issue of rice farmers' well-being focused on the empowerment of the farmers' networks. Efforts will be made together with relevant governmental organizations to sustainably enhance the capabilities of rice farmers.
Wanee Pinprateep, head of the 2nd subcommittee, said that consideration on health systems in urban areas led to a resolution to form a national committee to integrate operations of different organizations and focus on the primary health care that allows public participation in the prevention of preventable diseases in order to relieve congestion at medium-sized, community-based hospitals. The resolution also calls for better referral to secondary and tertiary hospitals. The national health assembly proposed reduction in the consumption of salt and sodium to be in national agenda and urged the quick formulation of strategic plans because the consumption is extremely high among Thai people. The assembly also saw the necessity to introduce standards and regulations to control salt and sodium content in products.
Tipparat Nopladarom, head of the 3rd subcommittee, said that although the resolution to cope with unhealthy smoke haze had been implemented for three years, the problem had not been reduced and social contexts had changed. Therefore, a committee for this matter was proposed to be a mechanism for long-term development and local operations. The Ministry of Natural Resources and Environment was asked to be responsible for the committee.
For its next session, the National Health Assembly intends to consider issues with impacts at the national level. Local and provincial health issues will be assigned to provincial health assemblies for the sake of flexible work.
Source: Thai Post on December 28, 2015
Photo credit: National Health Commission Offfice