The health ministry is urged to include them in Thailand's health care systems as they help boost the national economic growth.The National Health Human Resource Commission, a subcommittee on the implementation of the WHO Global Code of Practice on International Recruitment of Health Personnel, the Bureau of Policy and Strategy under the Ministry of Public Health, the Health Systems Research Institute (HSRI), the National Health Commission Office (NHCO), the International Health Policy Program and the Social Inequity Reduction Network organized an academic conference on the health of migrant workers and solutions for equity in health systems as the number of migrant workers in Thai health systems keeps growing.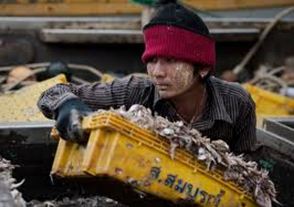 Dr Suphan Srithamma, deputy permanent secretary of the Ministry of Public Health, said relevant parties needed to study the situations that resulted from the growing number of migrant workers in Thai health systems. The study will bring about knowledge on related problems and the demands of health service providers in the government and the private sectors who serve migrant workers and illegal immigrants. It will result in management proposals to create fair access to health services and disease control. The conference should lead to solutions to cope with the increasing number of migrant workers and immigrants.
Migrant workers form 90% of non-Thai people in the country and their number is estimated at 4 million.
Dr Suphan said the population and housing census in 2010 found there were about 2.7 million people who did not have the Thai nationality in Thailand and 90% of them were migrant workers. Most of them came from Myanmar, Cambodia and Laos. Demographic researchers estimate the number of both legal and illegal migrant workers at over 4 million in Thailand. The migrant workers need health services and lead to the question if Thailand must provide health services to the migrant workers because many health facilities face financial crises as they must treat the migrant workers who do not contribute financially to Thai health systems.
A proposal to include migrant workers in health systems
Dr Phusit Prakongsai, director of the International Health Policy Program (IHPP), said there were problems about health services for migrant workers because health policymakers did not consider migrant workers as the people who needed health services and protection from communicable diseases. Consequently health services for these people become the burdens of health facilities. For the sake of the security of Thai health systems when the country must depend on migrant workers, the Ministry of Public Health must change its development plans and policies for health systems by expanding them to cover migrant workers.
"Existing health policies that cover personnel production, budgetary allocation and the distribution of health facilities are based on the number of Thai people alone although migrant workers must use the health systems of Thailand. We must admit that our health policies should be for not only 65 million (Thai) people but also migrant workers in Thailand. Therefore, personnel production plans must be based on these numbers."
Migrant workers help expand the Thai economy.
Dr Rapeepong Suphanchaimat, a researcher of the International Health Policy Program (IHPP), said the International Labour Organization found in its research in 2007 that migrant workers increased the incomes of Thailand by about 60 billion baht annually and contributed to 7-10% of values in its industrial sector and 4-5% of values in its agricultural sector. Though not paying a tax or contributing financially to health systems, these people support the growth of the Thai economy. They also pay the value-added tax on all products and services.
"At present, health insurance systems for migrant workers cover only those with work permits. Only these workers can buy health insurance. Consequently many migrant workers have no access to health services although they play important roles in Thai economic structures. Therefore, concerned parties must have the new perception that the inclusion of foreign workers or migrant workers in health insurance systems has nothing to do with any nationality issue."
The membership of a health care fund for foreign workers remains small.
Dr Rapeepong also said that the Ministry of Public Health has been offering health welfare to migrant workers in the form of the health security fund for foreign workers since 2000. The foreign workers who have work permits can buy health insurance at 1,900 baht per year. They are entitled to health examinations and treatments. However, a very small portion of foreign workers has bought the health insurance. In 2012, only about 520,000 migrant workers are the members of the fund.
Samut Sakhon Hospital bears the costs of health treatments for foreign workers.
Miss Nahathai Julkarat, an experienced professional nurse of Samut Sakhon Hospital, said her hospital was burdened with the costs of medical treatments and health promotion for illegal migrant workers, for whom the Ministry of Public Health did not allocate a budget. Normally migrant workers come to a hospital only when they are in critical conditions and her hospital must treat them right away.
Umphang Hospital posts an annual loss of some 28 million baht.
Dr Worawit Tantiwatanasap, director of Umphang Hospital in Tak province, said the hospital had to treat more foreigners than Thai people. Consequently, the hospital posts a loss of 27- 28 million baht yearly because it must treat the people who are not registered in a Thai population database but live in its vicinity. The government should have short, medium and long-term solutions to enable the hospital to offer medical treatments on a humanitarian basis.
According to Dr Worawit, the management of Umphang Hospital must seek donations from the private sector because it realizes that unless it provides immigrants with medical treatments, epidemics will certainly enter Thailand. He thinks the government must come up with effective solutions because Thailand will be part of the ASEAN Economic Community in 2015.
"The government has a policy to reduce inequality. This is good. But it should take care of all people in Thailand. This refers to not only members of the three health funds namely the 30-baht medical care fund, the Social Security Fund and the civil servant welfare fund but also all the people who enter Thailand for the humanitarian sake," Dr Worawit said.
Source : Komchadluek Newspaper's October 16, 2012 edition
Photo source: www.bangkokpost.com