The WHO Side-Event advocated social participation as a key governance strategy for responsive government actions in South-East Asia
Reported by Dr. Neethi V Rao, PhD Adjunct Faculty, Institute of Public Health, Bengaluru, India

This side-event on Institutionalising Social Participation for Health and Wellbeing was convened by the National Health Commission Office and Ministry of Public Health, Thailand in support of WHO South-East Asian Region at the WHO Regional Committee of South-East Asia on 1st November 2023. The side-event aims to continue the momentum and advocate for the prioritization of social participation as a key governance strategy for primary health care towards universal health coverage following the New Delhi Declaration on Strengthening Primary Health Care in 2023 and the 75th Regional Committee's resolution on social participation in 2022.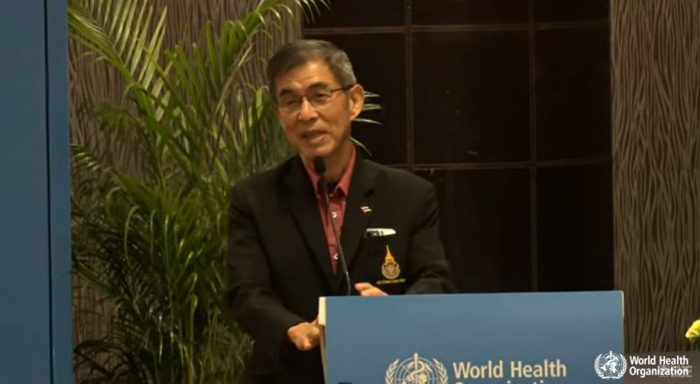 His Excellency Dr. Suwit Wibulpolprasert, Advisor to the Office of the Permanent Secretary, Minister of Public Health, Thailand gave brief opening remarks where he identified social participation as the most important of the four strategies for primary health care, which is a focus of the SE Asia Regional Committee. He emphasised that it is about "institutionalising" participation – to "make it more concrete, sustainable and effective", and not just implementing participatory mechanisms in an ad-hoc fashion. Dr. Wibulpolpraset elaborated on social participation as a mechanism to build trust through collaboration, cooperation, and co-ownership of policies. Mutual trust can be a lubricant in improving the quality, efficiency, effectiveness, and responsiveness of government actions.
Dr. Suwit's remarks was followed by a keynote address by Dr. Pem Nangyal, DPM WHO SEARO on behalf of the Regional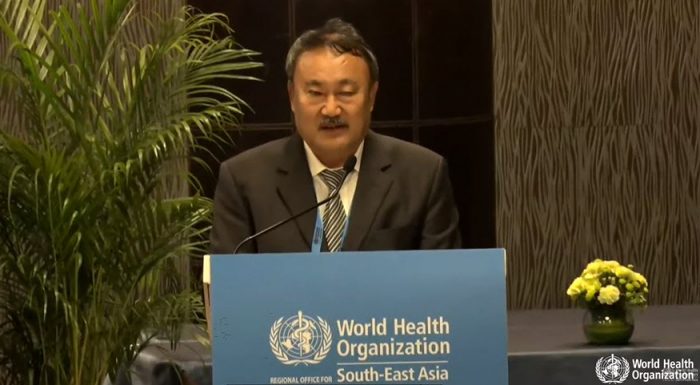 Director, WHO SEARO who was unable to join. Dr. Nangyal said that the importance of community engagement has in fact been recognised for a long time, and reminded the floor of the Jamkhed Model from central India that pioneered the provision of services close to the people's homes, community engagement and promotion of equity – principles that were formalised at Alma Ata in 1978.  Appreciating the Thai leadership in reinvigorating the issue of participation and community empowerment in times of digital advancement, Dr. Nangyal emphasised the need for social cohesion and collective action as the need of the hour.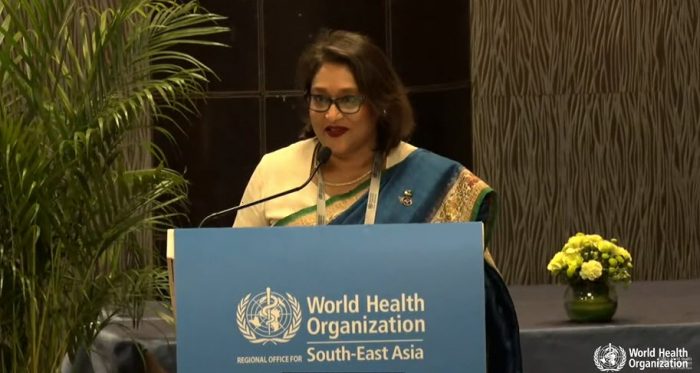 Ms. Saima Wazed, the newly elected Regional Director-Elect followed the keynote address with a brief intervention highlighting her own personal commitment and experience of building health services from the ground up. Pointing to Bangladesh's experience with community clinics and community education initiatives that were effectively leveraged for the COVID-19 response, she highlighted that health systems in the region are well-suited to support and institutionalise social participation.
Dr. Manoj Jhalani, Director, Health Systems Development, WHO SEARO was then invited to share updates on the progress made in the Region on social participation outlined in Resolution 3 of the 75th RC (SEA/RC75/R3). He shared that a regional consultation with participation from Member State representatives was convened in Bangkok, Thailand in March 2023 and three case-studies on social participation have already been completed to document social participation experiences from Thailand, Bangladesh and India with particular reference to the COVID-19 response. The findings from these three case-studies, along with emerging lessons and recommendations for countries of the region was presented by Mr. Manoj Jhalani. He shared four common themes that emerged from the case-studies:
Prior engagement was a key facilitator – wherever the govt had experience of engaging with population, communities, civil society, they were able to leverage it for effective covid response. A participatory governance culture cannot be built during a crisis but needs to be institutionalized during peace time to support resilience against crises/emergencies.

There was greater receptiveness for local participation, especially for service delivery implementation but this did not always extend to other parts of the policy cycle. However, resources and capacities are much more limited at local levels compared to regional/national level.

Social participation is synergistic to govt action – at all levels of govt and across all stages of policymaking.

Existence of participatory processes does not guarantee policy uptake of recommendations. There is a need for a facilitating agent to ensure policy uptake on an ongoing basis.
Based on these findings, he suggested three recommendations for policymakers: 1.Strengthen political will for participation – at all levels of government and at all stages of policymaking
2. Improve utilisation efficiency and effectiveness of existing mechanisms and resources for participation; and
3. Build capacities of government functionaries and civil society actors to engage meaningfully.
To discuss these findings and build on them, a high-level panel was convened with comprising distinguished representatives 1) Mr. Karma Jamtsho, Director of Department of Public Health, Ministry of Health, Bhutan; 2)Dr. Oscar Primadi, Chief of Policy Analyst, Ministry of Health, Indonesia; 3) Mr. Narciso Fernandes, Director of Cabinet for Policy, Planning and Cooperation, Ministry of Health, Timor-Leste; 4) Dr. Devaki Nambiar, Program Director, Healthier Societies, George Institute for Global Health, India, Secretariat of SPHERE Global Network, and 5)Ms. Nanoot Mathurapote, Head of Global Collaboration Unit, National Health Commission Office, Thailand.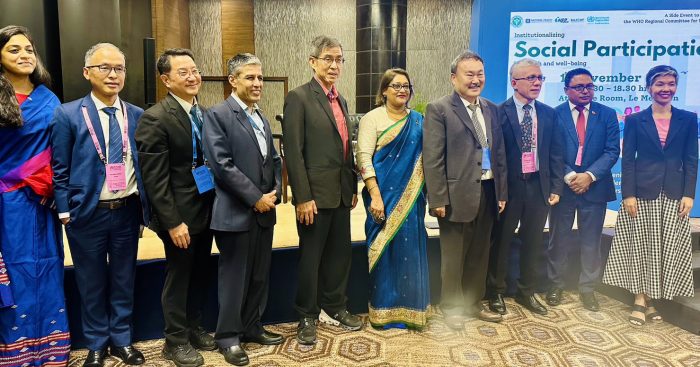 The panel deliberated on the importance of participatory governance prior to the onset of crisis and the need to institutionalize participation across all stages of policymaking. The panel was moderated by Dr. Thaksophon Thamarangsi, Adviser, Health Services at WHO SEARO who pointed out that participatory spaces in the region are inadequate, rarely extend to all aspects of policymaking and can often be symbolic. He challenged the panellists to share their experiences and offer suggestions on how participation can be scaled up into meaningful and sustainable participatory governance.
Mr. Karma Jamtsho said that Bhutan recognized the power of community engagement and that community organisations can be agents of innovation and change, not only for health but for all aspects of socio-economic well-being. Bhutan engages civil society organisations in national level dialogue for development planning and is actively looking to collaborate with them in the drafting of the 5-year plans and national health strategies.
Dr. Devaki Nambiar drew from her experiences as a researcher in India and convenor of a global network for research on social participation. She especially highlighted the role of the Kerala Institute of Local Administration, an autonomous organization supported by the provincial government of Kerala as a facilitator of government engagement with people, communities, and civil society at the local level during the pandemic response. Dr. Nambiar also shared five factors to support meaningful participation: availability of resources, demonstration of change based on participatory input, ability to leverage legal instruments and long-term commitment and a demonstration of the willingness of government to share power with the people.
The Indonesian experience of incorporating the collaborative spirit across all stakeholders and how it was demonstrated during the Covid response was shared by Dr. Oscar Primadi. He informed the floor about Indonesia's new regulation that focuses on community-based health planning, collaboration with non-governmental organisations for service delivery, dissemination of health information and outreach at community level.
Ms. Nanoot Mathurapote of Thailand emphasized four actions for strengthening and institutionalizing social participation: 1) building capacities of the government to engage meaningfully; 2) regular participation to enable 'learning by doing'; 3) predictable and sustainable financial resources; 4) routine monitoring and evaluation to improve the quality and impact of participation over time.
Ms. Mathurapote also shared Thailand's intention to propose a resolution on this topic to the WHO Executive Board and urged all Member States to provide their inputs and participate in the upcoming consultations that are being organized by Thailand.
Dr. Narciso Fernandes followed by reiterating the lesson from COVID-19 that governments cannot act alone; it needs partners. He shared important policy initiatives in Timor-Leste on community-based monitoring and integrated health services that leverages multi-stakeholder and multi-level partnerships. Dr. Fernandes underscored collective action towards shifting roles of people from beneficiaries to co-owners of the health system and policies.
Members of the audience provided key reflections based on the proceedings of the side-event. Dr. Cherian Varghese, WHO Regional Adviser on non-communicable diseases pointed out the need to proactively reach out to people and communities given power differentials in society and the challenge of policy uptake, especially in changing the behaviour of providers based on participatory input. Dr. Viroj Tangcharoensathien of Thailand reiterated the need for monitoring outcomes and impact of participation.