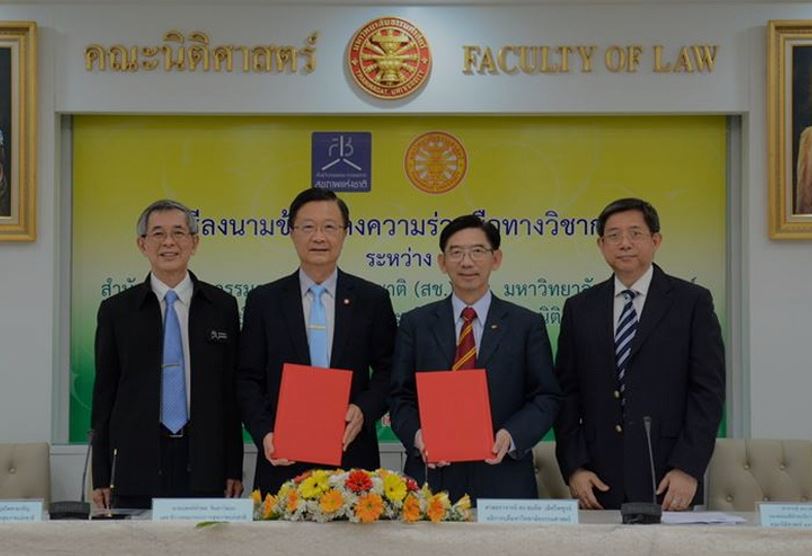 The National Health Commission Office (NHCO) signed an agreement with Thammasat University (TU) to continuously guarantee health-related rights and duties under the National Health Act in 2007. They include the will to reject medical treatment at the terminal stage of life and the protection of individuals' health information. The TU president said 250 million baht was allocated for the construction of a palliative care center in two years to promote peaceful death in line with the same law.
NHCO and TU signed the three-year agreement for their academic cooperation on health-related rights and duties in the Jitti Tingsabadh Room at the Faculty of Law in TU's Tha Phrachan campus on April 1, 2016.
Dr Amphon Jindawatthana, Secretary General of the National Health Commission, said NHCO and TU had jointly developed academic work related to health laws since 2008 and the signing of the agreement showed progress in the collaboration and response to present situations when it comes to health-related rights and duties.
Dr Amphon said Section 12 of the National Health Act allowed individuals to write a living will to reject the health services that would only delay death in the terminal stage of their life or to end suffering from illness. He also said that all parties can use knowledge from the particular section of the law and developments in health systems to educate the Thai society.
"Some sections may lead to recommendations and amendments, such as Section 7 that defines individuals' health information as their private information and prohibits its disclosure that would damage the persons. In the past, the scope of interpreting the law might be too narrow. The collaboration project will show such defective aspects and lead to legal amendments in the future."
TU president Prof Somkid Lertpaitoon said TU would publicize the important content on health-related rights and duties of the National Health Act which had been in effect for nine years so that people would better understand the key content of the law.
"The collaboration between NHCO and Thammasat University will expand understanding about health-related policies and ethics and reduce the well-being problems of Thai people."
Prof Somkid also said that Thammasat University was implementing the Thammasat Thammarak hospice project. The 250-million-baht center will be completed in two years and admit terminally ill patients from Thammasat University Hospital and provide them with comprehensive care under the supervision of doctors. This complies with Section 12 which stipulates that individuals have the right to write a living will to reject the health services that would only postpone their death. It also goes with the direction of other countries that attach importance to the matter.
"Thammasat University Hospital has not had systematic services for the palliative care. This project is thus its responsibility towards the society as patients can pass away peacefully. Medicines, medical personnel, and other relevant staff including psychiatrists will be quite costly for the university and the medical center will have only 20 beds. So we need cooperation from all parties, especially the families of the patients, in order to keep all operations as smooth as possible."
Source: www.hfocus.org on 2016-04-18 20:06
Photo credit: National Health Commission Office