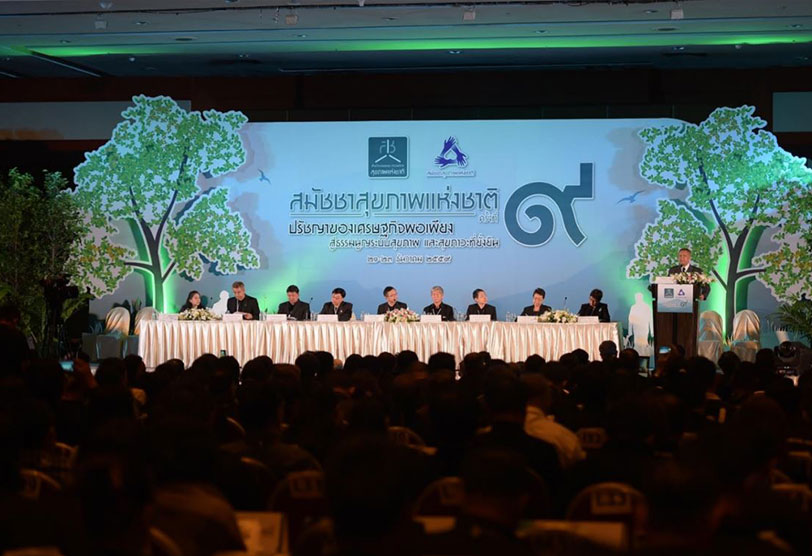 The 9th National Health Assembly was organised at the IMPACT Forum convention centre in Nonthaburi province on December 21-23, 2016. It was a platform for government agencies, academia, professions, private sector, civil society organizations and members of provincial health assemblies to share their views on local and common issues.
For this session, the National Health Assembly had four major issues on top of its agenda: 1) residential, community and urban management and development for well-being; 2) safe drinking water for people; 3) integrated and participatory health promotion for early childhood; and 4) area-based control of mosquitos.
The four issues reflected the local problems that provincial health assemblies had presented. The latest National Health Assembly gathered opinions and came up with resolutions concerning the four issues. It also followed up work related to its previous resolutions.
Many resolutions and issues discussed in health assemblies at various levels in evidence base  and participatory manner led to concrete national policies including control on emerging diseases from other countries and the quick screening and treatment of chronic patients.
"The more I learn and experience development through health assemblies, the more I am aware that Thailand has potential worth enhancement. We have excellent instruments to promote participation in development. Many other countries need them and want to learn from us for their own adaptation," said Dr. Poldej Pinprateep, secretary-general of the National Health Commission. The heart of social development through the National Health Assembly was "the collaborative development of knowledge through evidence and democratically participatory manners," he said.
Health assemblies were both an instrument and a goal, Dr. Poldej said. As an instrument, health assemblies are "participatory public policy processes based on wisdom" (4PW). The key to success is that all parties – the government, the private sector, the civil society and academic organisations – exchange knowledge and experiences based on knowledge, information and facts peacefully without any emotional desire to defeat anyone.
Finally the exchange will result in common solutions. No parties would gain or lose more than any other. Participatory democracy happens when all sectors do the exchange in neutral forums regulated with impartial mechanisms and rules.
Above all, the processes are tangible democracy because they are based on communi