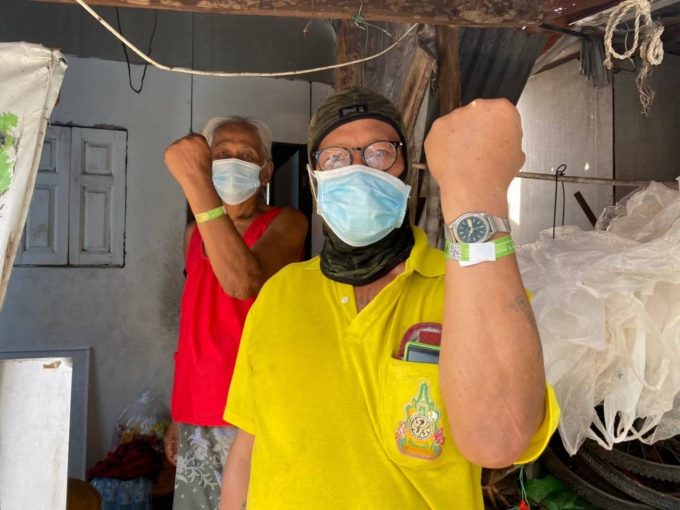 Worldwide social immunity is fragile
NHCO initiated an online dialogue to bring people power to enhance government measures.
Source Global Collaboration Unit, National Health Commission Office (NHCO, Thailand)
Photo by Mr. Techid Chawbangpom, NHCO, Thailand
At an online webinar of the National Health Commission Office (NHCO), Thailand, all speakers confirmed that all sectors in the society have had fatigue syndrome from the COVID-19 pandemic, economic downturn and several conflicts. It necessitates having a vaccine booster for "social immunity" which means synergy and collaboration between the people and the government. A WHO representative disclosed that Thailand is observed by other countries because other crises have affected on disease control.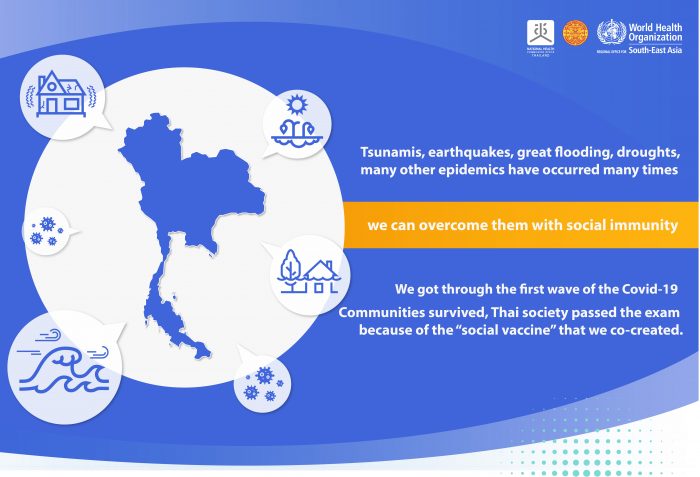 Dr. Suvajee Good from World Health Organization at the South-East Asia Regional Office revealed at the online webinar "Do we need a social vaccine, if we have received a vaccine for COVID?" which was organized by the National Health Commission Office (NHCO) on 30 July 2021, that many countries had the same problems with Thailand. The biggest problem was social immunity.
Social immunity is the whole system, including norms, values, cultures of a society. The COVID-19 crisis has more challenges than just the pandemic. It has affected all dimensions, especially the socioeconomic and political dimensions. Many countries apply an individual-based model for disease control and ignore social, community, and family dimensions, which is unlike Thailand. The cultural roots, solidarity, and volunteer spirits make up Thailand's social capital.
Dr. Good stated that the social capitals were disrupted during the COVID-19 pandemic.  Politics and the economy have been frozen. There has been an infodemic, with misinformation, disinformation, and rumors, being widespread. All of these factors have caused social discontent and mistrust toward government measures. Hence, the biggest problem is not only COVID-19 prevention and control.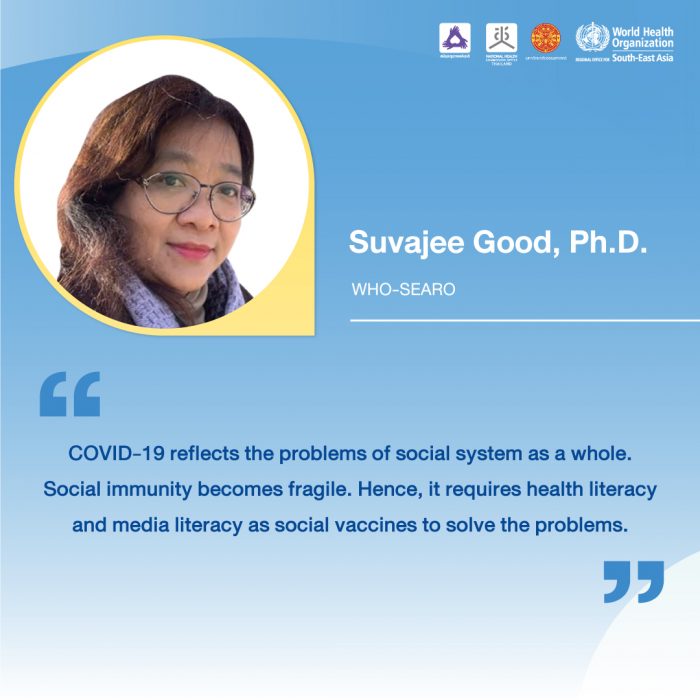 Dr. Good further mentioned that in the first wave of COVID-19 that Thailand had adequate social immunity – economic and political stability as well as community strength –  to control the corona virus and initiate social innovations to handle the situation. The second wave led to more negative impacts and an extensive infodemic to discredit the authorities. Mental health problems have been on the rise while income have plunged. Social immunity has gradually been weakened with dissatisfaction of the society.
"When the third wave of COVID-19 came in, Thai society was already fatigued. Social immunity has been hit hard by the pandemic, infodemic, cyber bullying, depression, loss, anger and hopelessness. Although vaccines for COVID-19 have arrived, the society has been sick and need social vaccines. Today WHO keeps an eye on Thailand because other crises have affected disease control measures" said Dr. Good.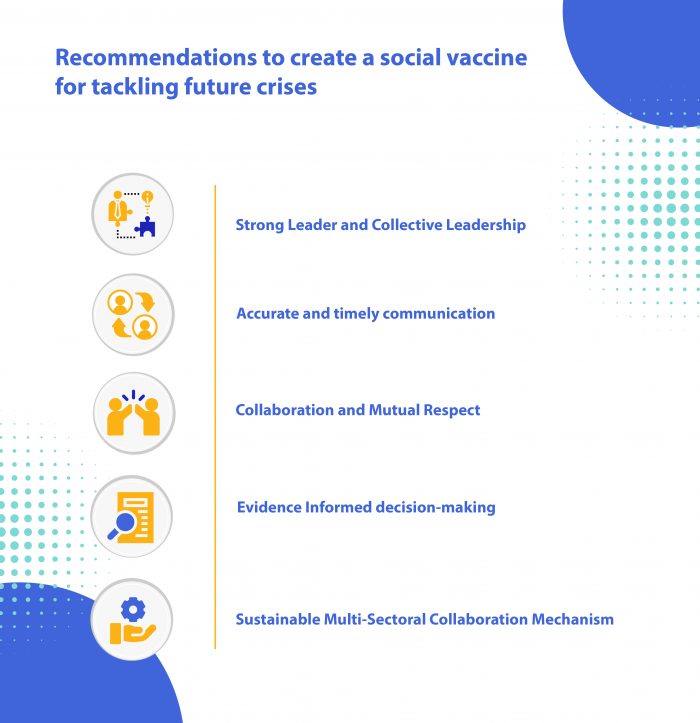 Dr. Weerasak Putthasri, Deputy Secretary-General of the National Health Commission stated that the past experiences such as tsunamis, earthquakes, flooding, droughts have been proved the existence of social vaccines. We survived through these hardships because of social immunity. Similar to the COVID-19 pandemic, communities stood up and supplemented the government work, for example, by producing cloth facial masks and providing food, survival packages, and donations.
Dr. Putthasri cited that an increasing number of new cases resulted from the exhaustion of frontline medical workers and all sectors. The role of the National Health Commission Office is to provide a multi-sectoral platform calling for collaboration from various sectors to solve the problems. Furthermore, NHCO encourages and supports various sectors to collectively handle the COVID-19 situation by sharing a COVID-19 prevention, control and treatment model like the Nakhon Pathom Model to other provinces.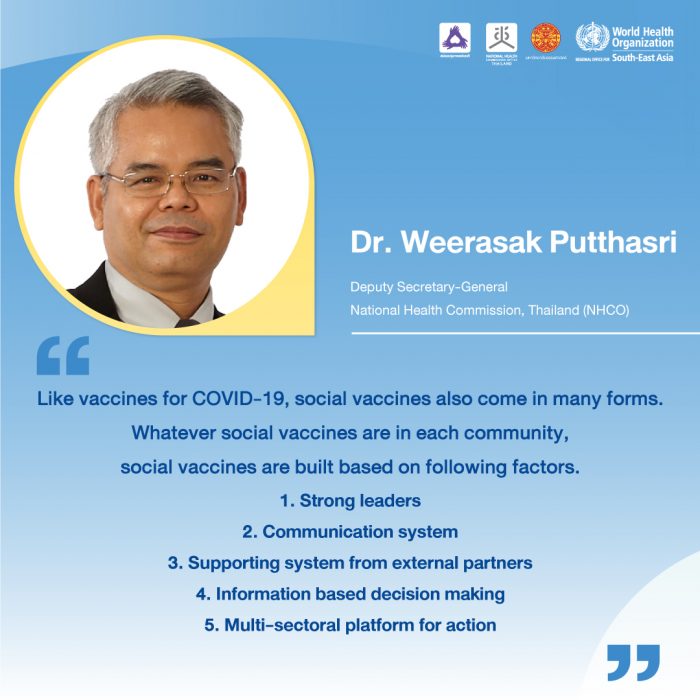 "Similar to vaccines for COVID, the sick society needs social vaccines too. The power of volunteer spirit is a booster dose for the social vaccine. To invest in social vaccines in the long term, we need to (1) build collective leadership, (2) communicate correct information in a timly manner with appropriate channels to the target groups, (3) support communities by external organizations with respect to community's way of living, (4) use data for decision making, for example, on financial support, survival package distribution  and (5) create a multi-sectoral mechanism to collaborate and work on a regular basis," stated Dr. Putthasri.
Dr. Sriwan Thapunya, a chairman of the Don Meuang Zone 2 Community in Bangkok echoed the same fatigue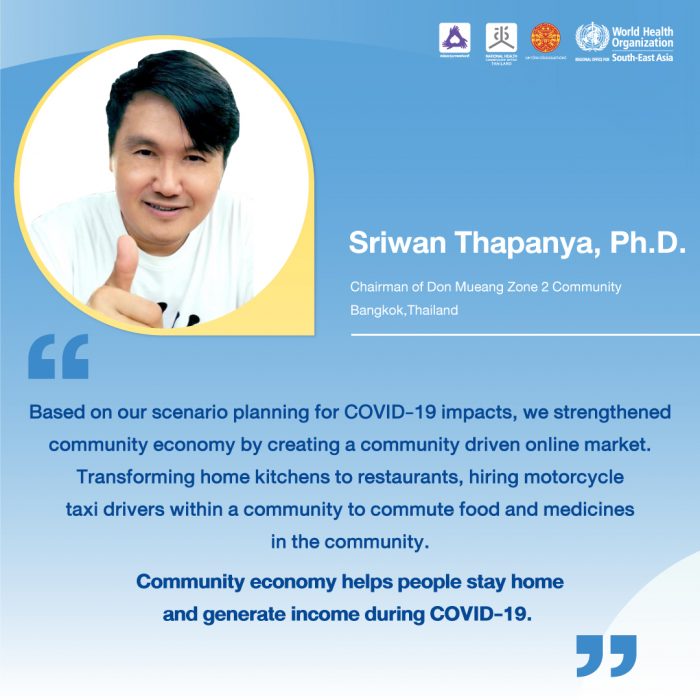 among health workers and volunteers because of the heavy workload caused by the unsuccessful efforts to control COVID-19. He stressed that communities need additional volunteers to supplement the first batch of volunteers who started working since 2020.
"So far, communities have helped themselves and helped one another. The question is how far they can handle this. Today, we want the government to take into consideration to engage people in crisis management planning and to align their work from the policy level to the implementation level. The government has budget, workforce and agencies. They have to work with people" stressed Dr. Thapunya.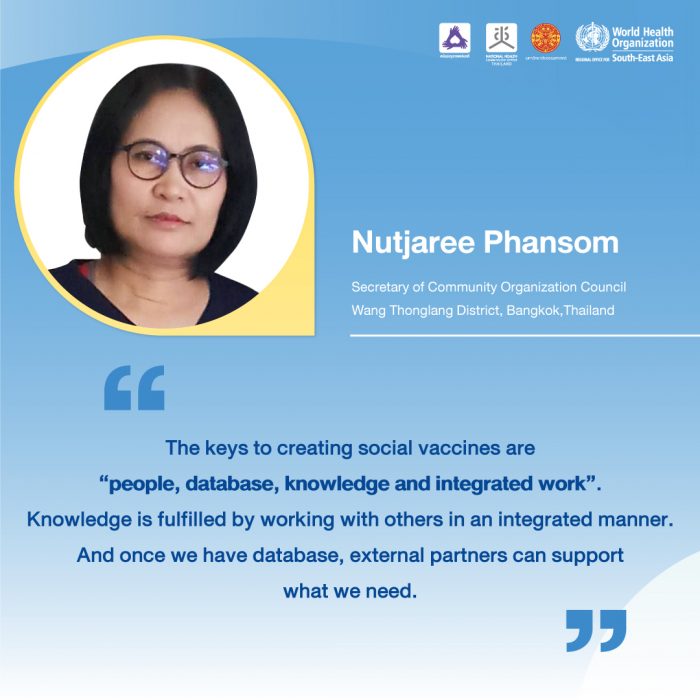 Mrs. Nucharee Punsoam, a secretary of Community Organization Council of Wang Thong Lang District, Bangkok, reflected that the sustainability of the work counted on the true need of communities, and communities should stand up and work for themselves depriving of government support. The government has complicated rules and regulation; that causes everything more difficult. In fact, communities have the knowledge of how to solve their problems and know how to make it sustainable.
"Communities must modify themselves from being the affected to becoming the problem solver.  We can use this crisis as an opportunity to develop many good things, for example, a food delivery system and a community database. Once we have a database, assistance will come to us." said Mrs. Punsoam.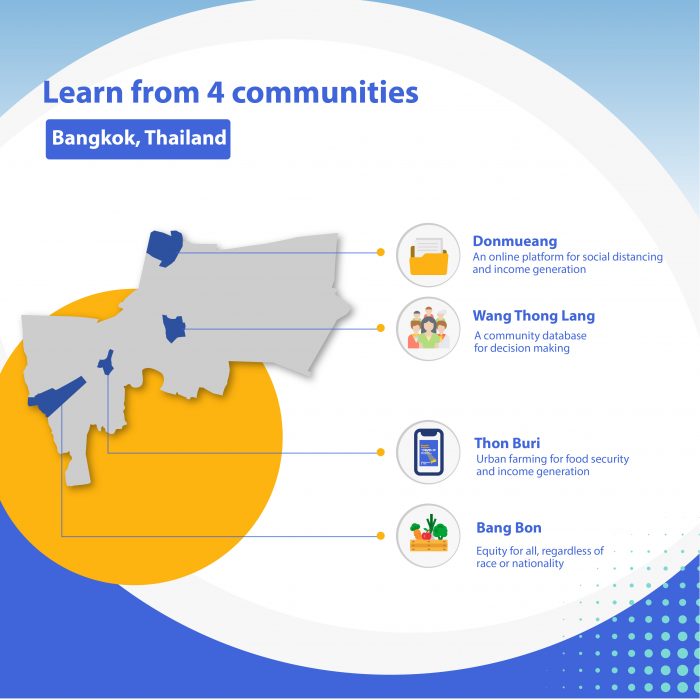 Dr. Wongwat Liewluck, Deputy Inspector of Bangkok Metropolitan Administration was concerned about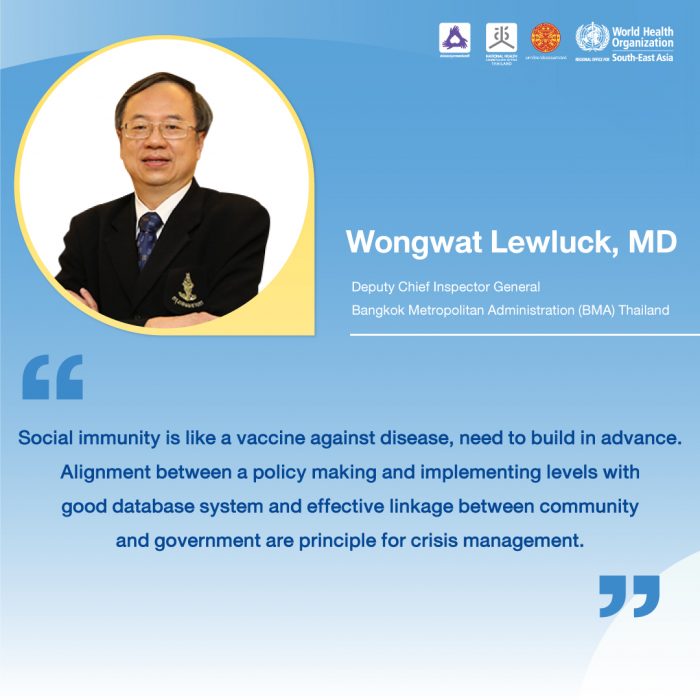 vulnerable  groups who were affected by government measures. He stressed that any measures that are issued during the crises, always have side effects for some groups. Hence, we should build social immunity for vulnerable groups when issuing measures. A good database on vulnerable groups is consequently important. 
"Many measures we thought they would come out good, but in practice, they may have problem or they are not applicable to some population groups. The home isolation measure, for example, is hard to apply to people who live in a small house with many people. For some population groups, the government should have a special care to them. This is all about a good database" underscored Dr. Liewluck.
To read a full strory of Bangkok, Thailand on Bangkok Response to Covid-19 with communities and innovative solutions click here