Civil Society Engagement Mechanism (CSEM) of UHC2030 and WHO/Social Participation Technical Network (SPTN)

conducted a survey on the role of civil society in response to the COVID-19 pandemic. The result of the survey from 175 respondents in 56 countries which 98% of those is civil society sector shows that civil society organizations (CSOs) role in collaboration with the government is limited  in the crisis. The preliminary results from the survey please click here.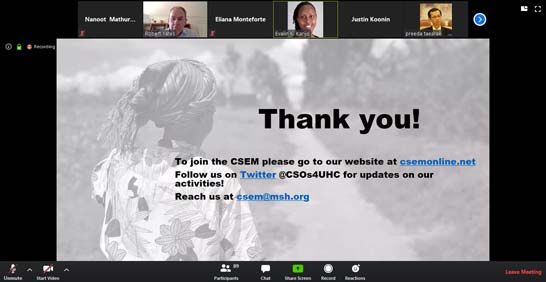 Consequently, CSEM in collaboration with WHO/SPTN organized a zoominar to echo the role of civil society in response to the COVID-19 on 21st April. Thailand was exemplified as a case of good collaboration among governmental organizations at a national level and between governmental organizations and civil societies.
Dr. Preeda Taearak, Deputy Secretary General of National Health Commission, Thailand

, updated a joint project on 'a synergy of active citizens to support fighting against COVID-19'. He told that the project had two main objectives – one was to support of CSOs's participation in response to the pandemic at provincial, district and sub-district level, and another was to transform citizens to be literate in health and active in contributing to society. Currently, National Health Commission Office has set up a coordinating centre in support of fighting against Covid-19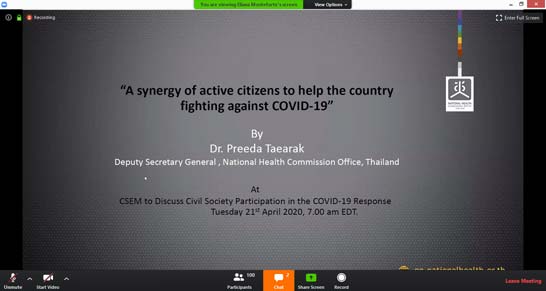 Mr. Justin Koonin, President of ACON

from Australia supplemented that a country which has a participatory mechanism in place like Thailand could bring strength of civil society to complement governments' response to the pandemic amidst the crisis.
Thailand has invested continuously to strengthen a capacity of civil societies and communities since the Primary Health Care era. At present, Thailand has had participatory consultative platforms available at all administrative levels, for example, provincial health assembly at a provincial level, a district quality of life board at a district level and a community organization council as well as a health charter committee at a sub-district level. These platforms will be discussed  how to control and mitigate negative socio-economic impacts of the Covid-19. The project also encourages civil societies in sub-districts to come up with their measures to fight against Covid-19. So far, some communities have developed their health charters specifically on the issue of Covid-19
Dr. Taearak concluded at the zoominar that we could make this project happened because of our policy enabling collaboration among sectors and stakeholders, competent workforce from the government and CSOs sides and available resources at a sub-district level.  Furthermore, the culture of sharing and helping one another became a vital social capital which helped people during a lockdown policy have healthy lives.