Source : PRATCH RUJIVANAROM, THE NATION, 26 April 2019
Photo credit :  https://www.pexels.com/photo/left-human-injected-with-hose-on-white-textile-1243364/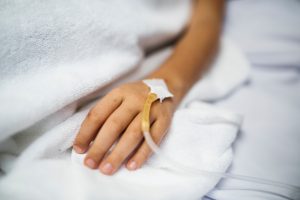 EVERYBODY HAS the right to die a good death by choosing palliative care in their last years, but nobody can opt for euthanasia, medical experts said.
The widely publicised story of a young Thai man, who was in the fourth stage of brain cancer and decided to end his agony with medically assisted suicide in Switzerland, has fuelled debate over whether Thailand is ready to legalise such action.
Panellists at the National Health Commission Office's seminar on people's right to choose the way they want to die, said recently that everybody has the freedom to choose a good natural death according to law.
However, they agreed that speeding up the end of life medically is a form of suicide.
Dr Issarang Nuchprayoon, a medical lecturer at Chulalongkorn University, said most people view end-of-life medical care as both painful and expensive, with doctors focused only on keeping the patient alive as long as possible.
This is not entirely true, Issarang said, pointing to the medical treatment offered by palliative care, in which the primary objective is to allow patients the highest quality end-of-life experience and let them die naturally and peacefully.
"Palliative care does not focus on extending the patient's life, but ensures that the terminal-stage patient is as comfortable as possible, maintains good mental health in the last days of their life, and has a good peaceful death at the end," Issarang added.
Living will can dictate palliative care
Mercy killing is another story, he said, as it seeks to rush a person's death by ending their life to avoid illness-related pain.
This is not only illegal in most countries, he said, but can also be considered a serious breach of medical ethics.
Sawaeng Boonchalermwipat, National Health Commission Board member, said mercy killing was not a legal option in the Kingdom.
Yet, he noted, Article 43 of the National Health Act allows each person to choose how they want to be treated in the final period of their life and avoid painful medical treatment that might extend their life. They can instead write a "living will" and choose to get palliative care.
"Despite the National Health Act having already been in use for 11 years, the majority of people still do not know that under this law they can choose what kind of medical care they prefer to receive at the end of their life.
"Most people are afraid of the agony of modern medical techniques to keep their heart beating, so it is not beyond expectation that many people are supporting the legalisation of mercy killing,"Sawaeng said.
"But these people can avoid a painful and expensive death by writing a living will, so others know how they should be treated when their final period of life has come."
He said a living will is easy to write, as it can be written in any form and only needs to include a date and the person's signature.
He suggested that everybody write a living will to prepare for their inevitable final period.